Archive 2003
My home page was getting getting kind of porky at over 10,000 words, so I created this archive page to store the ancient history. When I started, I never thought I'd need one. :-)
Entries cover the year 2003 and are in reverse chronological order.
Monday, December 22, 2003
Two new pictures of our puppy Oakes, taken on my birthday, December 5 during the first snowstorm of the season.
Tuesday, December 16, 2003
We finished decorating our tree (a Fraser fir) last night. We didn't remember having so many ornaments! It's our biggest tree yet, so Anne had to buy a second string of lights. Despite my fear of placing ornaments in the "wrong" place (I have no ability for decorating), I really enjoyed myself.
The other day we happened to have three kinds of sparkling mineral water in the house, so just for fun Anne administered an informal blind taste test. I was able to easily pick one water as "different." It was Gerolsteiner (I didn't particularly like it), but I couldn't reliably tell San Pellegrino from the Whole Foods store brand (365) "Italian mineral water." Since the 365 water is significantly cheaper, we didn't see any point to paying more for San Pellegrino, except when guests come over, of course.
Speaking of taste tests, as part of my week-long birthday extravaganza, we were treated by friends to a fabulous dinner recently at The Capital Grille, a steakhouse in downtown Philadelphia. I have been to the Outback (a chain of Australian-inspired steakhouses) a number of times, but never to a steakhouse of this caliber with the exception of one other: Ruth's Chris, which, while serving an excellent steak, was lacking in most other areas. Our experience at The Capital Grille, however, did not disappoint.
The Capital Grille is, for want of a better term, a "high-end" steakhouse in the grand tradition of other such beef shrines complete with acres of polished wood and brass. This was no Outback. They obviously cater to well-heeled business people. There were even small lockers near the door with local company names on them. What they stash in there I have no idea.
When we arrived, the place was packed. There's something exciting about a restaurant that is very popular, especially a good one. I mean, I've been in a McDonald's that was this crowded, but it was, uh, somehow different. Our reservation was honored, and we were seated without delay, despite the crowds (forget about "waiting in the bar"). Our waiter (David) distributed menus and took our drink orders. Their menu is huge and unwieldy, because each one contains an extensive wine list--two very large pages of small print. (I would have preferred more pages or a separate list.) David explained that all the cuts of beef were available in four ways: classic au jus, sliced with garlic butter, au poivre-studded with peppercorns and covered in Courvoisier cream sauce, and "Oscar" style smothered in lump crabmeat. All the beef they serve is "aged." It all sounded wonderful. For an appetizer, I ordered a cold baby lobster, which they split open for me. It was some of the freshest lobster I have ever eaten, and it was a special treat. It was the next best thing to having a lobster roll. For the entree, I ordered filet mignon, simply because it was the smallest cut available. Because the beef is aged, all the cuts are tender, so you needn't order filet mignon to get a buttery-soft serving. I also ordered cottage fries and onion strings, but the side orders are scaled to serve two hearty eaters or four normal ones. Our table of eight was inundated with onion strings, but they were great. My filet was the best I have ever had. When I tasted it, I realized that I have never had aged beef before. It was a delicious treat. Dessert was superb as well. None of us were interested in after-dinner cigars, port, or single-malt Scotch, but that's the kind of place it is. Such things were in abundance. The bill for eight was around $700, which included one bottle of wine ($140). I would go there again, if I could afford it.
My computer troubles are over. After suffering with two "Users" volumes for almost a week, I was able to track down and fix the problem. For one thing, the program that created the second Users volume (when the original path in Netinfo became invalid) is either automount or autodiskmount. I'm not sure. Getting rid of the second volume was actually easy, although I booted into Single User mode to do it (you can probably just use Terminal). All I had to do was delete "Users" (the one that was orphaned), and then rename "Users 1" to "Users." Interestingly, if you ls the live partition "Users" (or any live partition for that matter), the contents come back as .autodiskmount instead of the actual files and directories. I'm not sure what that means yet. After deleting the dead volume, I set the path to my home directory in Netinfo and all was well.
Tuesday, December 9, 2003
It all started innocently enough. My PowerBook's LCD screen was dusty as usual, so I cleaned it with some Windex and a paper towel (not the approved method, but hey this thing is 5 years old and long out of warranty) and while I was at it, I gave the keyboard a few swipes as well. Unfortunately, I didn't notice that the computer was on (the display was dimmed to black) until the external CRT monitor warmed up and suddenly displayed my desktop. I noticed then that one of my partitions was highlighted as if to be renamed. Oops. Obviously, I must have hit some combination of keys that selected the partition and then brushed against the Enter key. Fortunately, the partition hadn't been renamed, so I thought all was well.
The next time I booted up, I was greeted by a completely generic desktop as if I was using the computer for the first time. All my settings were gone! Then I noticed to my horror that my Users partition, which contains my home directory, was named "[[]szx" (or something equally nonsensical). I renamed it to "Users" and restarted, hoping that would fix everything. Uh, nope. My home directory was still there, but OS X no longer recognized it as my home directory. It seemed as if I didn't even have a home directory anymore.
I won't bother detailing all the things I tried to fix the problem, but I finally learned what happened. First of all, my home directory is not in the default location, but is on a separate partition. The netinfo database stores the custom path to my home directory. When this path is invalid, as it was when my Users partition was accidentally renamed, OS X creates a temporary volume using the original name and appends a "1" after it. That way the volume is still available, although what good this does, I have no idea. There's no sign of the new volume on the desktop. I had to use the Terminal to look in /Volumes to see it. Sure enough, I now had two volumes, one called "Users" and one called "Users 1." What's worse is that now "Users 1" is now the real Users directory as far as OS X was concerned, but there was no icon for it on the desktop or other sign that OS X had switched to it. Since I wasn't sure how to get rid of the new volume, I simply pointed OS X to the new location of my home directory and most of my settings were restored. There are a number of settings that are still wrong, but nothing major. What remains is to find a way to delete the phantom volume--without deleting all the data in the partition!
I owe thanks to user "blech75" for mentioning the problem in this post at macosxhints.com.
Sunday, December 7, 2003
I just read Thom Hogan's 2004 Predictions of developments in the photography industry for the coming year. Fascinating stuff. I enjoy reading about digital cameras and other new equipment even though my main interest is in equipment created before, let's say, about 1985 or so. That means film, of course, so while on the one hand I'm interested in the latest and greatest DSLRs, on the other I'm particularly interested in predictions about the death of film, or at least its increasing unavailability. Thom predicted that Fuji Astia (my number one favorite slide film) would be replaced by the new Astia F. Fine with me, since Astia F is an improvement in every way over Astia. (I shot almost 20 rolls of it on a trip last July.) He also predicted that Fuji Velvia would be replaced by Velvia F. That would be a shame, because although Velvia F offers twice the speed (ISO 100 vs. 50) with the same (or even less) grain, Velvia F does not replicate original Velvia's unique ultra-saturated palette. He's also predicting that Ilford may retire three B&W films, the very three I use most often: Pan F+, Delta Pro 3200, and HP5+. Now what? Is there a giant freezer in my future?
Monday, December 1, 2003
Our puppy Oakes has learned a new trick! Up until today, he was unable or unwilling to catch anything in his mouth, although he would usually snatch things that bounced (like Kongs) right out of the air on the first bounce. We've been halfheartedly attempting to teach him to catch by gently lobbing his favorite stuffed toys in the general direction of his mouth, but until today, he never attempted to catch one in the air. Suddenly, he just did it! We tried a few more times, and he almost never missed! In one day, Oakes went from not being able to catch anything to being able to catch whatever we threw at him: knives, bowling balls, chainsaws, you name it.
Thursday, November 27, 2003
Another year, another Thanksgiving. I can't remember the last time I have felt so thankful for the life I have. For one thing, we got out of work at 1:00 yesterday. :-) But seriously, as I've said before, it may not be glamorous, but it's a wonderful life.
I'm in the middle of making a pie crust that will either be the best or the worst I've ever made. I had to add a lot of water to get the dough to hold together. This is usually a Bad Thing. We'll see. [Update: It was the worst crust I ever made--very tough. I changed the way I make crust by trying not to overblend the shortening with the flour. As a result, there was a lot of uncombined flour, and so I needed to use almost twice the usual amount of water to make the dough manageable enough to roll out. The resulting dough was quite elastic--like bread dough--and, as I mentioned, the finished crust was quite tough. For a second pie I made a few days later, I reverted to my former technique and all was well.]
Wednesday, November 26, 2003
I've added the latest picture of our puppy, Oakes, to his page. He is a little over four months old.
Tuesday, November 25, 2003
Believe it or not: This morning on my walk to the train station I passed by a neighbor's house who is having some remodeling done. I glanced at the two trucks parked outside and was quite surprised by the names of the contractors: Macintosh Construction Company and Apple Roofing!
Saturday, November 22, 2003
Since the Macintosh G5 was introduced, we have been contemplating replacing Anne's beige G3 minitower with a computer made in this century. Neither of us can afford to replace our computers as often as we would like and have held off upgrading for a long time, but the G5 represented such a huge jump in performance that it seemed like the time had come. Then last week, Apple introduced updated G5 models and a new version of the iMac that featured a 20-inch LCD screen. We had never even considered the iMac before, but that big display made us stop and think. As fine as it is, an iMac wouldn't be our first choice. For one thing, the G4 that powers all iMacs is now past its prime, and even at 1.25 GHz, this iMac would be considerably slower than even the slowest G5. On the other hand, a 1.25-GHz G4 is more than adequate and is four times faster than the beige G3. In the end, we both agreed that for the money, having a big, beautiful display was more important than having the speed. (The cheapest G5 with a 20-inch LCD would be almost $1,000 more.)
Last night, we visited our friendly neighborhood Apple Store in King of Prussia (sawdust on the floor, cracker barrel in the corner, big potbellied stove by the register) and bought one of the new 20-inch iMacs. Such a nice machine! The screen is indeed beautiful, and the computer is plenty fast and extremely quiet as well.
Even though it's a Macintosh, it's still a computer, and as sure as Steve Jobs will wear a black turtleneck and jeans at Macworld, we had some problems... It didn't take us long to realize that our fancy new computer wouldn't play audio CDs (DVDs and CD-ROMs were fine). When you put a CD in, the drive would spin up, making a soft rushing sound like someone taking a shower in the next room, but iTunes did not launch and the disk would never mount. Our only clue was found in the log (/var/log/system.log) which said: "diskarbitrationd[88] unable to mount /dev/disk1 (status code 0xFFFFFFFC)." But what could be the reason? Our iMac doesn't like Marc Cohn?
For one thing, the first thing we did after booting up was upgrade 10.3 (Panther) to 10.3.1. Could the upgrade have had anything to do with it? No one reported that upgrading to Panther alone broke audio-CD playing, but I did find references online to several specific scenarios where audio CDs would fail to mount under Panther. One possibility was a corrupted CD database file and another was a Retrospect extension that was incompatible with Panther. Neither of these applied to us, however. I tried repairing permissions and trashing various preference files, but nothing worked. Finally, I gave up and, since we had nothing to lose, we wiped the drive and started over. That fixed it. These Macs are getting more and more like PCs every day--if something breaks, you just wipe the hard drive and reinstall everything. :-)
[Update: I learned from Ben Gertzfield that the solution was posted on the Apple discussion boards. Trash these two files: /System/Library/Caches/com.apple.kernelcaches and /System/Library/Extensions.kextcache and reboot.]
Tuesday, November 18, 2003
Shock and Awe this morning. Shock when I surfed to Apple's home page and beheld the updated G5s. I wasn't prepared for that. Awe when I noticed the new iMac with a whopping 20-inch LCD. It's hard to imagine such a big monitor at the end of such a slender arm (flying buttresses sold separately, I guess). I'm reminded of Crazy Apple Rumors' "coverage" of the release of the 17-inch iMac. *Thunk*.
Later in the day, more shock as I learned that PC Magazine had bestowed its 20th Annual Tech Ex Award in the "Personal Computer" category to the Macintosh G5. That's right, PC Magazine thinks that Apple's G5 is the best personal computer. If that's not one of the signs of the Apocalypse, I don't know what is. If that's not enough praise for the G5, consider that a cluster of G5s at Virginia Tech is ranked as the third fastest supercomputer in the world.
Last night I attended the bimonthly meeting of the Philadelphia Area AppleScript Users Group held at Springboard Media in Philadelphia. Thirteen people turned out for this one, probably a record. One discussion unrelated to AppleScript had to do with someone using the utility "top" to discover why his computer was running so slowly. He discovered that MouseWorks (the software supplied with Kensington mice and trackballs) was using over 50% of the processor. Hey, I thought, I have MouseWorks and my computer is sure slow. Maybe that's it. At the first opportunity I ran top, but the only thing sucking cycles was top itself. I guess I can't get a speed boost that easily.
Friday, November 14, 2003
I finished Apple's Objective C tutorial where you build a little application called Currency Converter. The exercise certainly gave me a better appreciation for Cocoa, if not for Apple's documentation. I had spent a little time with Interface Builder before, but not enough to appreciate how nice it is to use when creating a GUI interface. But I had some problems. I named my files exactly as specified by the tutorial, but because the file names had spaces in them, Project Builder was unable to compile the project. This seems like a rather careless oversight in a tutorial aimed at beginners, but admittedly nowhere near as egregious as the infamous iTunes installer which could delete an entire hard disk if it happened to be named with a space.
Something else I thought strange was the results I got from running the converter. All the numerical values (the currency amount, exchange rate, and the result) are defined as "floats." I would expect, then, I could enter a decimal number and get a decimal result. If I enter 1 for both amount and exchange rate, then the result is 1, but if I change the exchange rate to 1.1, then the result is still 1! I'm definitely losing money in that exchange. If I change the amount to 1 and the exchange rate to 1.1, then the result is 1.210000038146973! The program is simply multiplying the exchange rate by the amount, so I can't account for this. So now I have a nice GUI on top of a program that doesn't work...
Monday, October 20, 2003
Last week I downloaded the latest version of Firebird, a browser based on the Mozilla code base, to take it for a spin. From what I've been reading, Firebird on Windows is highly regarded and popular. On the Mac, however, things aren't so highly evolved. The release notes warn: "Firebird on Mac OS X is new and still very rough around the edges. Expect platform inconsistencies." They aren't kidding. I like Firebird myself, but I didn't get very far with it. In fact, I joined the Firebird support forum just so I could post this "bug" report, incredulous that this browser suffers from such a basic flaw:
Problem loading URLs (OS X) I have a problem loading URLs with Firebird 0.7 running on OS X (10.2.8). If I launch Firebird with a fresh set of prefs (trashing the Library/Phoenix folder), then the Firebird home page loads, and I can load URLs by typing, clicking the toolbar icons, or choosing a bookmark. In other words, all is well. If I close the window and open a new one, I can no longer click on the toolbar icons (except the Home icon) or choose a bookmark, although I can still type URLs. If I specify "Use Blank Page," then I can no longer even type a URL--hitting return or reload does nothing at all. The only way to go to a page is by choosing addresses on the Go menu or the Release Notes item on the Help menu. Just wondering if anyone else is seeing this... I haven't seen it mentioned. Thanks!
Sunday, October 19, 2003
Now that I have the makings of a shiny new design for my home page, I need to find some way to apply the design to the rest of the site--over a hundred pages. Gulp.
Fortunately, the site is based on a Dreamweaver template, so I could simply modify the template and apply the changes. The problem is that I don't want to use Dreamweaver; I have a simple Perl script I wrote that I want to use instead. The script uses a Perl module called Text::Template (written by Mark Jason Dominus) to build pages based on my template and there is some simple code of my own that builds a custom navigation menu for each page. At the moment, I use this script only on the home (blog) page--the one you're reading at the moment.
There are a few improvements I need to make to the Perl script so that it will work on the entire site. Better get crackin'.
Thursday, October 16, 2003
For the last couple of weeks, I've been working on converting my site from a table-based layout to a CSS2 (Cascading Style Sheets Level 2) layout that uses CSS positioning. This is the only page that's close to ready, so I thought I might as well just put it up. The page also sports my new "design." If you like it, most of the credit goes to Ray Henry, whose CSS design "Backyard" at CSS Zen Garden inspired me to new heights of, uh, theft. Actually it doesn't look nearly as nice as Ray's design. I should have stolen it outright. :-)
Wednesday, October 8, 2003
The big news here has nothing to do with that little election out there on the Left Coast, but that the latest version of OS X, Panther, will ship on October 24th--much earlier than I expected. I was really looking forward to this upgrade for a couple of reasons. For one thing, Panther promises a new Finder, and if there's one thing I hate most about OS X, it's the Finder. The other reason is speed. Every version of OS X has been significantly faster than the one before, and the word from Panther beta testers is that we won't be disappointed with Panther's speed. (Question for Marlin Perkins: Is a panther faster than a jaguar? Hmm.) Speed is important to all of us trying to run OS X on old hardware. Don't get me wrong--OS X runs fine on my old laptop, but most of the time, you feel like you're working underwater.
I say I was looking forward to the upgrade, because I learned today that I won't be able to install the upgrade on my Powerbook "Wall Street." It's too old. Panther will only run on Macs with "built-in USB," and that rules out both my laptop and my wife's beige G3. We have been orphaned! Marooned! Abandoned! (I'll stop now.) The only hope is something called XPostFacto, which somehow allows OS X to run on unsupported hardware. The web site suggests that support for Wall Street Powerbooks and beige G3s is hoped for not long after Panther ships.
Speaking of Mac OS X, I upgraded to 10.2.8 last night. So far, I've noticed only three problems:
When waking from sleep, my external monitor was not automatically recognized. Instead, the internal LCD was used at a resolution of 800 x 600 instead of 1024 x 768. I was able to re-select the external monitor.
My web pages, which are simply text files with a .html extension, had been set to open in BBEdit. After the update, however, these files now display a Safari icon. What's bizarre (to me) is that these files still open in BBEdit when double-clicked in the Finder. Incidentally, even though the 10.2.8 update includes "several enhancements for Safari," those enhancements did nothing to fix my problem with Safari.
I only have one application set to launch automatically at startup; the three I normally use most often are launched via an AppleScript. When I ran this script, only two of the three applications launched--BBEdit didn't open. I opened the script in Script Editor, and ran it manually. Here's the code snippet:


tell application "Finder"

open application file id "R*ch"

end tell

The error I received was that no application of file id "R*ch" was found. Whatever. Maybe that's why the icons of my HTML files reverted to Safari. [Update: After a restart, my BBEdit icons have reappeared. It's as if I rebuilt my "desktop," except OS X doesn't have a desktop.]
Tuesday, September 30, 2003
When I started shooting black-and-white two years ago, I used Tri-X and later tried both Ilford's Delta 400 and HP5+. I really like HP5+, but like all the 400-speed films I've used, the grain can sometimes be intrusive. I felt limited by the size of prints I could make because of the grain. Another problem I've run into when attempting larger prints is sharpness. My normal developer is Xtol 1:1, which at that dilution is still primarily a "fine grain" developer. It works by nibbling away at the edges of the grain, thereby making the grain clumps smaller. At higher enlargements, sharp edges don't really look sharp, but rather fuzzy. (It couldn't be my technique, could it? Nah.)
I tried some Ilford Pan F almost a year ago. This ISO 50 film sure took care of the grain problem, and the tonality is silky smooth as well. I haven't made any large prints from those negatives, but the promise was there. In the quest for greater sharpness, I recently bought some Ilford Perceptol, based on the recommendation of Barry Thornton's The Edge of Darkness. Perceptol is an even stronger "fine grain" developer than Xtol, but he recommends using it at dilutions of 1:2 or 1:3, which he claims makes it work as a high-acutance (sharpness-enhancing) developer. I mixed up a batch and, without any testing, used it on a roll of Pan F at the recommended time of about 16 minutes at 68 degrees Fahrenheit. This time turned out to be too short (!), because the negs were very thin. I was sure the time was too short by looking at the edge marks. These should be very dense regardless of the exposure, and the marks were merely a medium gray. Although the negs were thin, they seemed to have very smooth gradation and were extremely sharp.
To get a ballpark time for Perceptol, I did a simple clip test last night. I cut three slivers of film from the leader of a roll of Pan F and developed them for 15, 20, and 25 minutes. Only the sliver developed for 25 minutes had full density, so that will be my starting time for the next roll.
Sunday, September 28, 2003
mere cat has gone to the dogs! My wife Anne has provided some recent photos of her puppy, Oakes. The lovable lug now has his own page.
Thursday, September 25, 2003
I've added an appreciation of the ease of squirreling away info into my latest (software) toy, Hog Bay Notebook, along with a minor rant about the OS X Services menu.
Following advice on Mac OS X Hints, I was able to get Apache's Virtual Server feature to work. Before this, I was limited to viewing one local web site by entering 127.0.0.1 (or "localhost") as the URL. Now, not only can I have more than one local site, but I have given each of them short, easy-to-type names. All was well until this morning when Camino suddenly insisted on expanding my one-word Virtual Server address by adding "www" and "com." This created a URL that didn't exist. Sigh.
Anne's puppy, Oakes, had a playmate for the last few days. We were baby-sitting our friend's Seeing Eye dog, a German Shepherd named Vinnie. Oakes tormented Vinnie mercilessly, but Vinnie was a good sport about it, growling at Oakes only when one of Vinnie's toys was threatened. He taught Oakes a few new tricks, including going down the steps all by himself, which I witnessed last night for the first time. We have more pictures of both of them. Pretty soon, Oakes will need his own web page even though it will spoil the purity of the Cats section. :-)
Monday, September 22, 2003
We attended the fourth annual Jenkintown Jazz Festival yesterday. Not to take away from the artists who participated in the 2001 festival (the last one we attended--we missed last year's festival), but this year's lineup and performances were stellar. The musicians consisted of a rhythm section that included Curtis Weaver on guitar, Dan Monaghan on drums, and Tyrone Brown on bass. Other soloists included Tony Monaco on Hammond B3 organ and Eric Nemeyer on vibes. The stars of the festival were Sonny Fortune (alto sax and flute) and Jon Faddis (trumpet). One thing we noticed right away caused me to blush with shame. The bandstand was actually a semi trailer specially fitted as a portable stage. The side of the trailer clearly identified the owners as being the Bucks County Department of Public Works. Being as the festival was held in Montgomery County, I like to think that our county's trailer was otherwise employed, not that we had to go begging to Bucks County for equipment. :-)
For a while we walked around taking in the sights and then stopped to enjoy a beer under the tent provided by Buca di Beppo near the bandstand. While listening to the music, I watched the photographers snapping away; they were out in force. There were three press photographers and several advanced "amateurs." All had virtually identical setups--Nikon bodies with big telephoto zoom lenses. As I am a Nikon enthusiast, I approved of this, although I was surprised that no one was using Canon. For my part, I came armed with only my little Leica M4 with a 50mm lens. Although the camera is anything but conspicuous, it got quite a lot of attention. At one point, I was squatting in front of the bandstand taking pictures of the musicians and Jon Faddis pointed at my camera, said something I couldn't hear (this was in the middle of a tune), and held up two fingers. When he realized I didn't understand what he was asking, he signed a large letter "M" in the air, then held up first two then three fingers. Aha! He was asking me if I was using an M2 or an M3. I held up four fingers, and he seemed impressed. :-) Two of the press photographers were interested in the camera as well. Later in the day I was approached by a man who was from Switzerland who related his fond memories of growing up with rangefinder cameras, although he used a Russian-made Leica copy called the Fed.
Wednesday, September 3, 2003
Anne decided a while ago that she wanted to raise a puppy for The Seeing Eye, the guide dog school in Morristown, New Jersey that trains dogs to help blind people. The Seeing Eye depends on volunteers to help raise the dogs by placing puppies in volunteers' homes to be raised until they are old enough to return to the school for training. Because Anne didn't have any specific requirements as to breed or sex of dog, it didn't take very long before a dog was found for her. Our new puppy arrived yesterday, and he's a charmer. He's an eight-week-old male German Shepherd named Oakes. He's been a handful at times, and, not being housebroken, has had a couple of accidents so far, but that was to be expected. In addition, Anne had to get up once in the middle of the night to take him out and then wake up very early this morning. This will be a regular routine until Oakes is able to make it through the night. Neither of us has ever housebroken a puppy, so it's quite a learning experience for both us. The trouble I dreaded most was that our cat, Sidney, who will not tolerate the presence of any other cats in the household, would rebel at sharing his house with the new puppy, but this wasn't the case at all. In fact, Sidney even seems a bit bemused at the antics of the often whining and somewhat helpless puppy. For Oakes part, he doesn't seem that interested in Sidney either. Whew.
After trying a number of "Stickies replacements" over the last few weeks, I have finally declared a winner and paid the shareware fee of $19.95 for *drum roll* Hog Bay Notebook. Unlike the original Stickies (and the far more powerful StickyBrain), Hog Bay Notebook does not clutter up your screen by spawning a new sticky note for each topic. Rather, it behaves more like DEVONthink, sporting only one window (one window per "notebook" that is; you can have many notebooks open at once) that displays a single topic's content. The topics' titles are displayed in outline form in a drawer. The program features an elegant and clean design, is very easy to use, and basically just stays out of my way until I need it. It's a bonus that Hog Bay Notebook comes from Maine--Franklin, Maine, specifically, which is not too far from Bar Harbor.
Friday, August 29, 2003
One of my favorite plants isn't really a plant at all. It's called Indian Pipe and is a kind of fungus, I think. I put up some pictures from about two years ago on the Garden page. Weirdly beautiful, don't you think?
Friday, August 22, 2003
Sometimes I think that my G3 Powerbook (Wall Street) isn't very well made, but then I come to my senses. For one thing, it's five years old, yet it runs the latest version of Apple's operating system (OS 10.2.6) just fine, if not quickly, and the only problem I've had is that the clutches on the lid hinges wore out, so the lid now has to be propped against something. One would think that would be a major inconvenience, but it hasn't worked out that way in practice.
When I think of my experience with the last Apple laptop I owned, my current G3 stands like a paragon of durability and reliability. My previous laptop was a Duo 230, a great little machine for its time--both small and fast. But durable it was not. In the three years or so I owned it, every single part was replaced except for the case itself. Only the hard drive didn't fail, but it was so small I replaced it with a larger one not long after I bought it. But the logic board, the display, and the keyboard all failed.
There is one other problem I have with my current PowerBook, but because it is maddeningly intermittent in nature, I've never considered having it fixed. For one thing, the battery will not charge while the computer is operating; it must be off or asleep. I can live with that, inconvenient as it is. A related problem is that occasionally the computer will simply conk out when running on the battery. It's as if I had yanked the battery out. Sometimes it won't restart until I plug it back in to AC power. Less often, it will conk out when it's in sleep mode. When I go to wake it up, the blinking power indicator is off, and I know the machine has lost all power and crashed.
Today, I left work for the train with a fully-charged battery. Ten minutes later, I pulled out the computer to find the battery completely discharged--none of the LEDs on the battery would light up. On the train, I was able to sit near one of the AC outlets and plugged in the computer. Don't ever do this with a dead battery! Sure enough, there was a gap in power, and the computer died. When this happens, for some reason my computer restarts in OS 9. If that's not annoying enough, if I open the Startup Disk control panel to reset the startup disk to OS X, the computer always freezes (presumably because it had just crashed, there's still something wrong), so I have to restart yet again in OS 9 to change the startup disk. After all that, I waited until I got home to continue working.
Usually when this happens, I can recharge the battery and all is well, but this time, the PowerBook couldn't "see" the battery. There was an "X" on the battery icon as if the battery had been removed. After a day of charging, the battery was still dead. There are a number of things you can do in this situation, and I tried them all. I'm not sure which one did the trick, so if this happens to you, try them all as well.
Insert and Remove the Battery - Put the battery in for about five seconds, then take it out. Repeat this about four or five times and chances are the PowerBook will finally see the battery. What's more, the LEDs on the battery will light up and show you the actual charge. When this happens to me, and the PowerBook doesn't see the battery, none of the battery's LEDs light up either, as if the battery were really dead, even though the battery has a full charge. After inserting the battery a few times, the LEDs will begin to show the actual charge. Because there is something wrong with the charging circuit in my Wall Street PowerBook, I have to perform this procedure with the computer either off or asleep. (Thanks go to "phlavor" who posted this tip at macosxhints.)
Reset the Battery - In OS 9, run the Battery Reset application, which you can find on Apple's site. There is no equivalent application in OS X. Newer Macs don't have any battery problems, I guess. Yeah, right.
Reset the Power Manager - With the computer turned off, hold down the Shift, Function ("Fn"), and Control keys, and hold the power button down for five seconds. When you release it, the power indicator should glow briefly.
Reset the PRAM - Start up the computer while holding down the Command (Apple), Option, P and R keys. Continue holding the keys until you hear the startup chord three times.
Reset the NVRAM - Take out the battery. Start up the computer while holding down the Command, Option, O and F keys. This will cause the computer to boot into "Open Firmware." In all the times I've tried this with my Wall Street, the computer never booted into Open Firmware, but ignored my keystrokes and started up normally. I learned recently that there is a trick with the Wall Street model. Hold the four keys down at startup. When you hear the chord, let up the keys and press them again just as the chord is fading away. This little trick gets me into Open Firmware every time! Once you're in, enter "reset-all" (without the quotes) and press Return. The computer will restart automatically. Put the battery back in... and good luck!
I learned about resetting NVRAM from an article on Macintouch where the command "reset-nvram" was also mentioned, but this command doesn't work with Wall Street. See also this Apple tech bulletin: How to Reset PRAM and NVRAM.
Once the battery is charged, run the computer on the battery until it is discharged. Repeat this cycle a couple of times, and the battery should start behaving normally. Of course, I'm probably the only person still using a Wall Street!
Tuesday, August 19, 2003
I have added a review of Abbott's, a lobster pound in Noank Connecticut, to my lobster-roll page.
Saturday, August 16, 2003
Today was a frustrating day for this lobster-roll fanatic. First, Jim Coleman interviewed food historian Sandy Oliver on his show "A Chef's Table". She lives on an island off the coast of Maine and specializes in Maine's culinary history. I was all ears. Would lobster rolls come up, I wondered? Sure enough, at one point, Jim asked, "Let's talk about the lobster roll, because that has an interesting history, or maybe an urban myth about how it got started. Do you know how it got started?" (Jim's interest proves to me that I'm not the only one curious about the lobster roll, although since it was one of his last questions, clearly he's not obsessed.) Sandy's answer was downright disappointing. She said, "Lobster salad has always been popular. Back in the 1700s, fishermen vended cooked lobster in wheelbarrows through the streets of Boston... Lobster salad was terribly popular in the 19th century." Her answer was a good start, but it doesn't explain who first decided to put lobster salad on a grilled roll. If she doesn't know any more than that about lobster rolls, who does? I'm just thankful they exist, regardless of where they came from. You can listen to the interview for yourself, which was otherwise excellent. (After August 23, 2003, the interview should be available in the "A Chef's Table" archives.) The lobster-roll question comes up about 40 minutes into the show.
Hearing Sandy's interview inspired me to look for Lobster Rolls and Blueberry Pie: Three Generations of Recipes and Stories from Summers on the Coast of Maine when I was in Barnes & Noble later in the day. Mysteriously, their computer showed one copy in stock, but it was nowhere to be found. Hmm.
Still on a (lobster) roll (ahem) in the evening, we finally hooked up our TV and VCR. (We've been in the new house for almost two months and are just getting around to this task. We don't watch much TV.) The reason was to watch a segment of CBS News Sunday Morning that a friend recorded for me, knowing my predilection for lobster rolls. The piece, "Maine Attraction: Red's Eats," covered a visit to Red's Eats, widely considered to be the premiere lobster-roll destination in Maine, and hence the entire world. The problem was, the tape refused to rewind to the beginning so we could watch it. Grr. I had never taken a VHS cassette apart, but with the help of this "repair FAQ," we were able to disassemble the cassette without destroying it. We couldn't figure out what was preventing the tape from rewinding, so we rewound it by hand! After all that work, the piece was over in only a few moments, but it was fun and enlightening nevertheless.
To balance out some of the frustrations of the day, I visited a new (to me) chain of sub shops that I can heartily recommend. The chain is called Quiznos Sub and was discovered by my friend Jim Flach. I have no idea what "Quiznos" means, but as far as "subs" go, here in the Philadelphia, we call such sandwiches "hoagies." The sandwich I tried was "Tuscan Chicken," which featured chicken (of course), Parmesan, Asiago and Romano cheeses, red onion, tomato, romaine lettuce and a "Tuscan" cream sauce. It was superb. The keyword at Quiznos is "toasty." One thing that sets them apart is that they run the sandwiches briefly through the broiler, toasting the bread lightly and melting the cheeses. Visit their web site and use their store locator to find one near you. I was surprised at how many locations there are. I had never heard of them.
Friday, August 15, 2003
I added a page chronicling my analysis of a bug I found in Safari 1.0. At least I consider it a bug. For what's it worth, the HTML code is 100% valid, yet Safari can't load it at all.
Tuesday, August 12, 2003
As I walked to the train this morning, I worried that the leaden skies would open up and drench me, but my trip was peaceful and quiet as usual. The only moisture was a fine mist that hung in the air and coated all the spider webs, making the normally invisible webs very visible. The lawns looked as if they were strewn everywhere with doilies made of tulle.
Thursday, August 7, 2003
After looking at two Stickies replacements recently, StickyBrain and NotePad Deluxe, I found an article by Giles Turnbull at O'Reilly's Mac Dev Center site that covers a few others. The article's author really likes StickyBrain, but some of the readers' comments inspired me to download DEVONthink. The program's strength seems to be its technology for linking and organizing information, including "semi and full automatic classifying of contents, [and] automatic list of similar contents," but it sure doesn't excel at making it easy to get that information into the program.
Not that it doesn't try, however. For example, if you install DEVONthink in the official OS X Applications folder, it adds itself to the Services menu, which appears in every application. Cool. Then from any application you can create a new DEVONthink note by selecting text in an application and choosing "Take Note" from the Services menu. The command is two levels deep, so it's a little bit of work, but it's nothing compared to the effort required to enter text using the Clipboard. The shame of it is that there's a keyboard shortcut for this--which would make it utterly slick and painless--but it doesn't work. Contrast this with the humble Stickies program, which is included with OS X. Pressing Command-Shift-Y in any program creates a new Sticky note containing the selected text. (Text and only text, that is. Stickies can't store pictures.)
Another annoying thing is that you have to "open" a note to edit it even though the content of the note sits there plainly visible in the browser, just tempting you to type. In another example, URLs can be dragged in to the program. If you drag the URL to the list pane, DEVONthink will create a new note, but one that contains only the bare URL with no option to annotate it, unless you want to click a few times to visit the "Get Info" window and enter some text in the Comment tab. You can also drag a URL into an open Note, but these URLs are converted to plain text and are not clickable. OK, OK, so it's not a bookmark manager, but it seems like an annoying limitation. Since all I want to do is take quick notes, I think this program is just making me work too hard.
One of the interesting tidbits I picked up from Turnbull's article was that the program I used to use under OS 9, Gramotki, has been updated for OS X. I'm off to check that out.
When Apple's web browser, Safari, was released as a beta, I tried it out and liked it so much that I started using it immediately. Even though it was a beta, I didn't encounter any problems with it. Recently I discovered that the final 1.0 release would not load the lobster roll page on my site. Safari just hangs forever trying to load the page. Two other Safari users report exactly the same behavior, so I clicked the little bug icon in Safari and logged my bug report. We'll see what happens.
Safari hangs while trying to load this page (either locally or from my web site), puts up the pizza of death and must be force-quit. I couldn't find anything wrong with the HTML code, and the page and external style sheet are valid according to w3.org. In trying to troubleshoot this, I commented out all the img tags and the page loaded, so it seems to be related to loading images, but the images all load successfully when opened directly. I'm sure I was able to load the page successfully using the beta versions, but don't have those versions any more to try it. The page loads fine in all the other browsers I've tried. I'm stumped. Thanks in advance for looking into this!
Sunday, August 3, 2003
Our Sunday dinner this evening was inspired by a recipe we picked up in a pamphlet at our local Whole Foods Market. It's for clams in a tomato sauce and chorizo sausage. We served it over basmati rice. The main course was followed by a salad consisting of endive with oranges in a dressing made of light cream blended with lemon and orange juice. Mmm!
In Pennsylvania one buys wine and spirits from a state-run chain of stores. Historically, these stores have been closed on Sunday, but they have begun a program to open select stores on Sunday. We discovered today that the one closest to us was indeed open. A good thing, too, because our recipe required wine. We tried something new--a Talus Chardonnay. The bottle was sealed with some new-fangled cork made of plastic. I'm all for progress, but I miss the old-fashioned corks.
Friday, August 1, 2003
This is my first day back taking the train to work and instead of catching up on my blogging, I've been sitting here comparing Stickies replacements. I took a look at StickyBrain, which is a very fine program, but for now I'm going to give NotePad Deluxe a try. I think it's going to take a lot more than this program to keep me organized, however.
Sunday, July 27, 2003
My, how time flies! It's been almost two months since my last post. Let's see... where did all the time go? Oh, it's coming back to me now. We just moved to a new house and then jetted off to Colorado for seven glorious days in the Rocky Mountains. We're back home now, settling in and enjoying our new home.
One thing we're trying is to set aside Sundays as "cooking days." Even though we make dinner every night from scratch (we try to use only fresh ingredients and avoid processed "convenience" foods), we don't often have the time or the energy to try a new recipe during the week. Sunday is the only day where we have the time to attempt making something new and interesting. For inspiration, we turned to two magazines we recently subscribed to: Cook's Illustrated and Fine Cooking. Cook's Illustrated offers recipes that are the result of exhaustive research and kitchen testing. In the July/August issue, there are recipes for the "Best Blueberry Pancakes" and "Grilled Filet Mignon." We started our day with the pancakes. (Why not the filet mignon for breakfast, you ask? I don't know... call me crazy.) My regular pancakes have quite a few problems. I always liked thin pancakes, so I usually added a little extra milk to the batter until it was runny. The pancakes were thin, all right, but they were often tough. Another problem was that I was never able to get the griddle at the correct temperature. The pancakes would either be pale or overdone. The Cook's Illustrated recipe offers some tips on temperature adjustment which we followed carefully. The pancakes were thick, but they were so fluffy and tender I didn't care. Not bad for the first attempt.
For dinner, we made a white bean salad with garlic, lemon and Parmesan from the July issue of Fine Cooking and grilled a small filet mignon following the instructions in Cook's Illustrated. I had always heard that steaks should be seared first and then finished at a lower temperature, but had never really followed this advice consistently. We followed the directions and after the searing step, moved the steak to the "cool" end of the grill with the burner on low. This temperature was too low, however, and after the specified time, the steak was only rare. Since we were planning on medium-rare, this was not much of a problem. I have to admit that the article recommended measuring the meat's internal temperature to determine doneness, but I did not do this. Next time, we'll try it with a medium burner. The bean salad was a success--very flavorful and refreshing even though we used canned beans in our one concession to convenience.
Monday, June 2, 2003
Recently, Anne upgraded her iTunes to 4.0.1 and bought her first song from Apple's new Music Store. Last night, I did the same. Interestingly, we both had one (and only one) song that immediately presented itself as the one to buy, a song that we especially liked but by artists we wouldn't buy a whole album by. My choice is rather strange, considering that my favorite music is jazz from the Fifties and Sixties. There is one song, however, that I always enjoyed hearing when it came on the radio, "Everybody Wants to Rule the World" by Tears for Fears. Searching the Music Store showed three versions available, all presumably identical, but in different compilations. Using Anne's account, I bought the version from Songs from the Big Chair. Ninety-nine cents poorer, I enjoyed listening to it, and Anne played me the samples of some of her favorite Tears for Fears songs, all of which I was familiar with, but none of which I would have attributed to them (I am so out of it).
Since I had bought the song using her account, she had the only copy of it on her Mac. The Apple Music Store permits sharing purchased music among three Macs, so I knew I could legally make a copy of it to my computer. I copied the song over the network to my Mac. Then in order to play it, Anne had simply to "authorize" and unlock the copy by entering her login password. The whole process was smooth and trouble-free. I probably will stop my buying binge with this one song, but if I were the music collector I used to be (I have about 2,000 vinyl LPs), I can see how the Music Store would be a much cheaper and more flexible way to obtain music legally. Just a word or two about obtaining music legally... As a musician, I am sensitive to the whole issue of legality. The last CD I played on, I was paid for at the time and have no stake in the royalties and hence no harm to suffer from piracy. Furthermore, I believe that piracy primarily hurts the record labels rather than the artists, and that music sharing does probably more good than harm by promoting an artist. Nevertheless, music sharing has a chilling effect on the music industry, and I would just as soon not participate in it. For an insightful and eloquent (not to mention persuasive) argument pro music sharing, please read what Janis Ian has to say on the subject in "The Internet Debacle-An Alternative View."
Anyway, as I was saying... cheaper and more flexible. Cheaper, because at ninety-nine cents, a typical album's worth of songs is significantly cheaper than a CD. I would miss the CD's "liner notes," but I can't read the tiny print on CDs anyway. :-) More flexible because I could preview each song before I buy, and once I had more than that one song, I could burn my own custom CDs if I wanted. Meanwhile, maybe I'll burn a CD with 20 copies of "Everybody Wants to Rule the World" just for fun.
Friday, May 30, 2003
Earlier this week, I opened up a small project I had written in CodeWarrior 6 under OS 9 in Project Builder under OS X and--just for the heck of it--tried to compile it. It only broke in a couple of places, looking for a couple of Open Transport header files. I figured that the headers I was using had been reorganized and renamed, so I went looking for them. I was a little surprised to find that I have 4,342 header files! I finally found my files under something called "FlatCarbon." I didn't like the sound of that, so I decided to rewrite the project in Cocoa. I'm interested in learning Cocoa instead of Carbonizing the existing one simply because I think it will benefit me if I ever want to use AppleScript Studio. I am going to check out a sample Cocoa project on the web site of Don Briggs.
Last night I developed a roll of film that had been rattling around in my bag for a couple months. My logs didn't seem to match the number of rolls I had (too many photos for too few rolls), so I feared I had double-exposed part of this roll. Since I regularly take film in and out of the camera in mid-roll, this problem is rare, but inevitable. Sure enough the first 15 frames or so were double-exposed, so I actually lost about 30 pictures. That puts my PAW even farther behind than it already is.
Tuesday, May 27, 2003
I needed some hiking boots (my first), and since I know exactly nothing about them, I turned to the Internet for help. As I usually do, I found a wealth of information, but didn't discover a clear consensus on the "best" brands. Rather than recommending a specific brand, most people advised over and over that the fit of the shoes was paramount. It was clear that this was one product that should not be bought online. Last week, we went to our local Eastern Mountain Sports store in the mall and tried to narrow the field based purely on aesthetics, as in I wouldn't be caught dead with those things on my feet. Going in to the store, I had the expectation of choosing a pair of ankle-height boots--they just seemed more righteously studly--but after struggling with the first pair for five minutes trying to pull them on, I gave up on that idea. For my purposes, the extra support of ankle-high boots would be overkill anyway.
I tried on boots from Columbia, Garmont, and North Face. All were similar, sneaker-like designs with excellent support and a stiff sole, but with widely varying degrees of comfort and fit. Out of this trio, the North Face Mt. Tam fit the best, but I decided to keep looking. I ended up with the Chameleon Ventilator Low from Merrell. They fit perfectly, and I've been wearing them often ever since just to hike around the house.
Yesterday was Memorial Day (in the United States), and Anne and I went to my brother's house for dinner. We have only one veteran in our family to remember, my uncle John, who was killed in France during World War II some ten years before I was born. My brother's mother-in-law is the family historian, and she told us that she has written for information about the circumstances of his death.
Friday, May 23, 2003
Did I ever mention that cherry pie is my favorite fruit pie? Not that it's the only pie I like. Anne makes a world-class apple pie from a recipe in How to Bake by Nick Malgieri, but as good as hers is, I love a cherry pie more. Part of the attraction comes from the scarcity of pie (sour) cherries. In fact, I can't remember ever seeing pie cherries available in the store. Last year Anne did something about the situation and ordered two cherry trees (a Richmond and a Montmorency). Unfortunately the Montmorency died before it could be planted, but the Montmorency is doing very well. At its tender age, we'll be lucky to get a handful of cherries from it this year (it's clearly trying to produce fruit already), but we're taking it with us when we move, so we can look forward to a good yield in a few years.
Last night we went to a birthday party for a dear friend of mine. All he wanted this year were "fruit trees." We had discussed the cherry situation numerous times with him, and so it was an easy decision to get him some cherry trees for his birthday. Anne ordered two trees from Raintree Nursery, one a Montmorency and the other an English Morello. She picked me up at work with the trees in the back seat (they just fit with their crowns barely grazing the headliner) and then we dashed off to rescue a couple going to the same party whose car had broken down. I wedged myself in the back seat with the two cherry trees. For the duration of the ride I became literally a "tree-hugger."
There are a number of plants that we are taking with us when we move, but the other day, Anne added another one to the list--a jack-in-the-pulpit nestled among the pachysandra along the north side of the house. We have no idea how it got there. These plants are rare enough in the woods as it is, and neither of us had ever seen one growing in a garden before. She has rescued it from almost certain destruction, and we hope it will thrive in its new home.
Wednesday, May 21, 2003
It's been over a month since my last post, almost as bad as that As the Apple Turns guy. Fortunately, I don't think anybody noticed.
Let's see, where was I....
While this web site reflects most of my current interests and occupations, there are large parts of my life that are completely missing. For example, I used to enjoy woodworking and car repair and have lots of opinions about tools and such, but since it's not a current interest, I've written nothing about it. I had a nice shop with a large assortment of woodworking tools (although it was never large enough; there were always some more tools to get). I haven't started a woodworking project in a long time, but I still have most of the tools. Some of these have come in handy as we are working on our house, but I realized I don't have much in the way of normal tools for renovating or remodeling. For example, while I own a 10-inch Delta "Unisaw" table saw, I don't own a normal circular saw. (The Unisaw weighs about 300 pounds, so it's not convenient to move it around.) At the other extreme, I own the diminutive Porter-Cable 340 worm-drive "trim saw." This little saw takes a 41/2" blade (I bought it just to cut plywood) and won't even go through 2-by stock in one pass, so I'm in the market for a 71/4 circular saw (for normal people, a circular saw is usually the second power tool one buys--right after a drill). Based on my bias for worm-drive saws, it was only a matter of deciding which one. I started searching online and got some good advice at doityourself.com and homerepair.about.com. After some more searching, I was struck by the dumb names of most of the online tool retailers: toolstoolstoolstools.com, dirtcheaptools.com, etc. None of these places inspired much confidence. Finally I stumbled on shop-for-circular-saws.com. OK! You can't get any more specific than that! I was a little surprised to discover that this site seems to be part of Amazon.com. I know that Amazon sells everything, but I had been used to buying only books from them. It turns out that they have about the best selection of power tools as well. I set my sights on a Skil HD77. I checked eBay, of course, for used ones, and since there are usually ten of these saws on eBay at any one time, I may end up buying it used.
Monday night I attended the second meeting of the revived Philadelphia Area AppleScript Users Group held at Springboard Media. Leonard Rosenthol of PDF Sages spoke about scripting Adobe Acrobat. Afterwards most of us went to Roosevelt's Pub at 23rd and Walnut for bonding and brewskies. The food was excellent, and it was a nice place to gather and talk. I had a delicious blackened tuna-steak on a kaiser roll.
Monday, April 14, 2003
Lest anyone think that we are some kind of environmental purists (not to mention martyrs) for using an old-fashioned, manually-powered reel mower (a Brill Luxus 38) on the bumpy patch of weeds we call our lawn, we aren't. Last weekend, we picked up a Craftsman gas mower from Anne's parents. They had no further use for the mower and were looking to find it a good home. We agreed that it would be nice to have a gas mower for the first cut of the season, because while most of the grass is still short, there are some tufts that have grown quite tall already. The Luxus does not do well at all with tall grass and even on it's highest setting, it sits quite close to the ground.
The mower had been sitting for about two years. It had a new spark plug and plenty of oil, but the gas tank was never drained. We emptied out as much as we could and added fresh gas. It wasn't that hard to get the mower running, but the residual bad gas made it stall almost immediately. After a few cycles of starting and stalling, it was running fine.
Speaking of environmental issues, Anne was in New York this past weekend visiting her sister. They went shopping together and Anne picked up a DVD of Silent Running, a movie I introduced her to not so long ago. The movie was released in 1972 and stars Bruce Dern as a passionate environmentalist and member of the crew of the spaceship Valley Forge. Valley Forge was just one of a fleet of spaceships--futuristic lifeboats or arks, really--that were stocked with Earth's endangered flora and fauna and launched into the safety of space to preserve them from destruction. All is well aboard Valley Forge until the crew receives the command to abandon and destroy the preserves and return to Earth. Faced with this crisis, Freeman Lowell is forced to choose between honoring his duty and following his convictions. In the end, he puts his convictions foremost and sacrifices himself to save the forest. A very poignant tale of great moral courage. I look forward to watching it again.
Friday, April 11, 2003
Mac OS 10.2.5 was released yesterday, and I installed it last night. The update fixed exactly none of my personal issues with OS X that I had complained, er, reported on to Apple via their OS X Feedback page. Sigh. Maybe Panther (due in late summer) will be my salvation. I guess it takes about three years for a new operating system to shake out. (Here I'm thinking of Windows 95 and 98.)
Tuesday, April 8, 2003
We were treated to a small blizzard yesterday that dumped two inches of snow on the ground. I'm glad things are back to normal--it was weird seeing the grass after it had been covered up so long. I was sad, however, to see our daffodils bent over under the snow. I wore a sweater today and brought my gloves, but somehow, somewhere I lost one of the gloves.
Wednesday, April 2, 2003
One of the benefits of the arduous task of packing to move is the chance to examine everything you own and decide what to keep and what to toss. I don't think of myself as materialistic, but I admit I have accumulated a lot of stuff--and I know I don't want to keep it all. For example, we've already given some furniture away, and I will try to sell some other things that are still useful on eBay.
Books are especially hard to part with, but I have to draw the line somewhere. Long ago, I announced that I would stop buying bookshelves. If I added a book to my collection, an old one had to go. What really happened, of course, is that I started piling books on the floor rather than throw any away. Still, some clearly had to go and now is the time. Some of the titles I knew I wouldn't miss. Many of my books are on niche subjects. Once, they were new and relevant, but now... I tried listing a few such books on Amazon and got nary a nibble, so I'm confident no one would want them.
In going through my books looking for rejects, I was delighted to rediscover some I had forgotten about. For example, I like reference books, especially books on English such as dictionaries, usage guides, and grammars. Some of my forgotten favorites include The Elements of Style, Henry Fowler's Modern English Usage, and Revising Prose by Richard Lanham. Now that I'm a computer geek instead of an English geek, I never look at them anymore. Perhaps I should. I'm sure they would improve what I like to call my "writing."
While I have a number of usage guides, I don't have a really good grammar book. The closest thing would be A Grammar of the English Language: Syntax by George Curme. I Googled some grammars and turned up two apparently definitive ones: A Comprehensive Grammar of the English Language and The Cambridge Grammar of the English Language. The trouble is, both these books are around $200 and undoubtedly would tell me more about grammar than I want to know. I would like to find something a bit more modest, although I look forward to perusing them someday at the library.
Another find is a book called Vertical Flight, a history of helicopters that I bought at the Smithsonian Air and Space Museum in the mid-1980s. I'm crazy about helicopters (and submarines), so I'm now reading all about them on the train ride to work.
Last week, Anne and I went to Warmdaddy's, a blues club in Philadelphia. We went partly because the band, led by Randy Lippincott, included a harpist Anne had met a while ago (she's quite partial to the harmonica, although not necessarily the blues harmonica). The other reason we went is that the band was hosting an open jam session, and I wanted to sit in, something I haven't done in many years.
We arrived well before the show and had dinner first. I had catfish and Anne had shrimp. The catfish was fine, but nowhere near as good as my own, which I can't take any credit for, as it is based on a Paul Prudhomme recipe. The collard greens, on the other hand, were out of this world. I had never eaten (or even seen) collard greens before. I can't say I know what they really taste like, but these were infused with a subtle yet powerful blend of smoke and barbecue flavors. Simply delicious.
The band took to the stage at 8:00 and played the first set themselves before inviting anyone up to sit in. The harpist we came to hear, Joey Simon, was great--a powerful and emotional performer, and fun to watch as well. Randy Lippincott sang and played guitar and seemed content to showcase the other soloists more than himself. I later learned that he is primarily a bass player, not a guitar player, so that explains it.
By the second set, there was a throng of musicians warming the bench, ready and waiting to play. There were so many that each got to play only two or three songs. My turn came and I joined in on a slow blues and then "Shake, Rattle and Roll." I didn't do that well, although I didn't embarrass myself. Not to make excuses, but each musical idiom has its own collection of stylistic cliches and mannerisms that form a common language. This universal language is what enables total strangers to get together and sound like a band. Never having played blues before, there were some I was unfamiliar with. For example, there was almost a train wreck at the end of the slow blues that was only narrowly averted by quick thinking by the bass player. He wanted me to me lead in to the ending. Fortunately, I was watching him like a hawk, so I took my cue from him and all was well. They still kicked me off the stage after two songs, however. :-)
Tuesday, April 1, 2003
I added two new pictures (weeks 7 and 8) to this year's PAW and two new pictures (weeks 30 and 31) to last year's PAW. Still pitifully behind...
Monday, March 31, 2003
Anne and I had a busy day yesterday. My brother arrived around 9:00 AM to do some electrical work. After serving him a breakfast of French toast (Oops, sorry, can't say that anymore. I meant "eggy breakfast bread."), he got to work installing two GFI outlets and some other things. In the afternoon, we headed downtown to the Philadelphia Ethical Society to hear local singer-songwriter Steve Cohen. (I played drums on his CD I Must Have Been Crazy, released in 2000.) Steve's show was poorly attended in part because of the cold and rainy weather--although he was still inspired to play a great set that featured a lot of new songs. After the show, we walked to a nearby home to visit our first foster cat, Tigger, who has been renamed Kenny by his new owners. When he lived with us, he was just a kitten, so I was a little surprised at how big he's gotten. I took lots of pictures of him, which I hope to add to his page soon.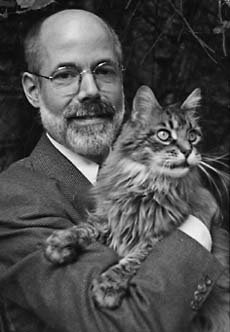 Woody 'n' me.
We sold our house recently and are in the process of packing and making some last-minute improvements to the old pile. Anne was ready to spackle the walls in the living room in preparation for painting, but this would mean covering over the scratch marks from my beloved cat, Woody. (Woody is the "mere cat" for which this web site is named. He died two years ago.) He had a favorite spot on the corner of the wall that he liked to use as a scratching post (along with quite a number of other favorite spots as well!) and over the years, he wore through the paint and wallpaper. The remarkable thing about these scratch marks (besides their sentimental value to me, of course) is their height. Woody was a big Maine Coon, and he could stretch about 38 inches. He was also tall enough to look over the edge of the dining room table to see what was cooking; it often saved him the trouble of jumping. (If it's not obvious, I never tried disciplining him.) On Saturday, I took a number of pictures of his scratch marks before Anne covered them up. Here's the only picture of the two of us together. Anne took it in 2000.
Monday, March 24, 2003
Tonight I attended the first meeting of the resurrected Philadelphia Area AppleScript Users Group. This special-interest group for devotees of Apple's scripting language AppleScript was founded in 1999 and used to meet regularly at SSI in King of Prussia. The group's founder, Ben Waldie, changed jobs about two years ago and became too busy to keep the group going, so it's been on hiatus for a while. He has changed jobs again and started his own company, so for the moment at least, he found enough free time to reorganize the group. We met at Springboard Media (an Apple reseller) in downtown Philadelphia. Special thanks to Everett and his staff for letting us use the store after hours. We were warmly received, and one of the staff, Jason, attended the meeting. For more information, please visit our group's web site. AppleScript is still one of my favorite programming languages even though I'm not using it much at the moment; I have a few random notes here.
Ben showed off his new 17-inch PowerBook, which only began shipping a few weeks ago. Surveying the sleek titanium PowerBooks and iBooks the others were sporting, I felt a strange sense of pride in having by far the oldest PowerBook of any attendee, a sickly 1998-era Wall Street. I described my PowerBook's ailments to Jason, and he helped me come to the conclusion that it just isn't worth fixing.
Over the weekend I inaugurated my "new" enlarger by making a couple of prints. These will be scanned soon for the next two weeks of my PAW project.
Sunday, March 23, 2003
My ship has finally come in. Big time. Promise you won't tell anyone, but I received an offer from some gentlemen in Nigeria soliciting my help in facilitating a transfer of certain funds. For my trouble, I will receive 30%-over six million dollars! The joke's on them, because I would do it for only 15%. Ha. What a chump. I feel guilty for taking the money. Almost. Well, so long suckers. I won't be blogging anymore, unless it's from my own private island. Bwah-ha-ha!
Seriously, this is the first time I've received one of the famous Nigerian scam spams. Actually I received two of them on the same day! I feel like I've arrived somehow. I don't get that much spam for some reason, thankfully. Years ago I decided to save every piece of spam I got, thinking that I would be able to do something constructive with it. I still save everything, but I've never done anything with. Looking over all the messages, I am mystified how spam continues to flourish. I mean, who would ever buy something, anything, as a result of one of these pathetic little messages. OK, maybe porn, but I get almost no spam advertising porn services. Most of them are about refinancing or other financial offers. I guess money is more on people's minds than sex. I'm just surprised that anyone would trust their money to any company who's advertising is barely one step above grafitti on a bathroom wall.
At least most of the spam I get is clearly commercial in nature and easy to identify and delete. Far more sleazy of course are the trick messages, the ones whose subject is designed to trick you into opening and reading the message, such as "Re: Hi." Still these are also easy to ignore, because the message was always from someone I never heard of, let alone said "Hi" to.
Totally mystifying is a whole category of spam that is basically unintelligible. Consider this subject from an actual spam in my collection: xnrpzgsup fnesrquic When was the last time you saw this The two nonsense words must be some kind of source code to track people responding to the offer, I guess. I see this a lot, but usually the code words come after the subject, where they are (slightly) less noticeable. What was the exciting thing they wanted me to see? The entire contents of the message was: "DDYUMVNSHLOICYBVSCHFJPYAFBUALT IDLCIPBANLSKWNKETTESHY VHGMKQRYGCQATVXYAR" I have to admit, I can't remember the last time I saw that. I guess if I act on this offer today (I don't know how, exactly), they'll throw in a SRGVHIJVN and a dozen WTKOSGBQ for free! The cleverest one (clever because I fell for this one and opened it) are messages from "Mail Delivery Subsystem" with the subject: "Returned mail: User unknown" I'm such a sucker for an error message. I think the spammers might get better results if they combined their businesses and made offers like Hot Teens Want You to Refinance Now!
Friday, March 21, 2003
My PAW (Picture-a-Week) project has been updated. Now I'm only about a month behind.
Monday, March 17, 2003
I am now the proud owner of a stainless-steel film-developing tank by the German company, Kindermann. It can accommodate five reels of 35mm film and came complete with five stainless-steel reels. Cool. Now I can develop two rolls of film at once. Only two rolls, you ask? Yup, only two. I use Kodak Xtol developer at a 1:1 dilution, and Kodak recommends using at least 200ml per roll (Anchell & Troop recommend 250ml) of undiluted developer. Diluted 1:1 that's at least 400ml of soup per roll. The tank only holds 1 liter, so I can only develop two rolls in 1 liter of solution. By the way, I bought this tank on eBay.
Speaking of eBay, I tried to register as a seller on eBay last night and had a very frustrating experience. For one thing, eBay doesn't seem to like Apple's new browser, Safari. Safari repeatably timed out while trying to submit the form I was filling out, so I switched to Mozilla. eBay requires sellers to register a checking account number in addition to a credit card, but the text box for the checking account number has a maximum length of only 10 characters (my account number is 13). In searching the new Help system for an answer (I never found one), I ran across a dead page and filed a bug report (the dead page asked me to report it to "support") as well as posting my question about the checking account number. After this experience, it is clear that eBay is no Amazon. Of course, Amazon is so well-designed that I never needed to test their help system, but Amazon's customer service was outstanding the one time I had to use it.
eBay's reply to my question was baffling. They didn't address the problem with entering a checking account number. Instead the reply has to do with routing numbers and nothing to do with long checking-account numbers. I never even mentioned the phrase "routing number" in my question (you can judge for yourself):
I was trying to register to sell on eBay and got as far as entering my checking account information, but the text box for the checking account number doesn't allow entry of more than 10 characters. My account number is 13 characters. Any suggestions?
Thanks,
Tony Green
I think it's a clear question, but apparently not, so it's back to customer service for another round. Sigh. They get points for courtesy and promptness, however. :-)
Meanwhile, I've been practicing loading the stainless steel reels. It's a little tricky.
Thursday, March 13, 2003
I wrote a little script for Eudora (my email program) about... let's see... wow, three years ago. Somewhere along the way in upgrading to OS X and newer versions of Eudora, the script got left behind. Eudora still has a Script menu and a Scripts folder, but now it's buried deep inside Eudora.app; it's invisible in the Finder. I moved the old script to the new folder and--naturally--it didn't work.
One thing that's not evident in the music section of this site is my love of Brazilian music. Right now I'm listening to Brazil Classics I, a collection compiled by David Byrne (of Talking Heads). This CD has turned me on to a number of excellent Brazilian artists. Although I'm riding in a dingy old train at the moment, as long as I'm listening to Gilberto Gil's "Quilombo" it's a warm, sunny day. Be back in a second--I need to freshen my drink.
Wednesday, March 12, 2003
Posted two new OS X feedback reports today. (copies on the Mac software page).
Monday, March 10, 2003
The weekend was warm and sunny, and the sunlight made a dent in the mountains of accumulated snow everywhere. Our lawn and driveway are finally clear, although I had to persuade some ice loitering near our back steps that it was time to move on.
On Saturday, we journeyed to the Tower Theater in Upper Darby to see Hall & Oates. I hadn't been to the Tower in many years and had forgotten how big it was. We sat about halfway back in the balcony section. We had clear sight lines, but at this distance, the sound suffered considerably, so it was difficult to hear much detail, like, uh, the words. But the muddy sound didn't spoil the show at all. The concert started out a little slow, but the energy level kept increasing with each passing song. For example, I found myself watching the rest of the band at first, as Daryl and John just stood there, but they loosened up considerably as the show progressed. Daryl Hall even worked in some slick dance moves towards the end. The rabid home town audience (Philadelphia is their native city), demanded (and got) not one, not two, but three encores. The final song was not one of their own, but rather Philly soul singer Billy Paul's "Me and Mrs. Jones." I don't know why they chose this one (they weren't out of original tunes yet, that's for sure), but they tore it up. Two of the musicians looked familiar to me. I think they may have been regulars in the Saturday Night Live house band. I'll have to look into that.
After it was over, I joked to Anne that I still "owed her a concert." She suffered through an opaque concert by my favorite guitarist, John Scofield last summer. The Hall & Oates concert was supposed to be my sacrifice to her musical tastes. The only trouble is, I really enjoyed it!
On Sunday, we donned our new aprons purchased at the Philadelphia Flower Show and tackled a long recipe for seafood gumbo that appeared in a recent issue of Food and Wine. I don't know much about gumbo, so I'm not sure how typical this recipe was. You start with broth based on chicken stock enriched by simmering shrimp shells and chicken wings and legs for an hour and a half. Other ingredients included green peppers, Spanish and green onions, celery, andouille sausage, shrimp, and okra. I had never eaten or even seen okra before, but it was right there in the produce department of our Whole Foods Market. In the finished gumbo, the okra doesn't have much taste; I'm not sure why it was included. One ingredient we couldn't obtain was filé powder, which is made from the leaves of the sassafras plant. I'm told it adds a distinctive flavor and also acts as a thickener. The recipe wasn't complicated, but it seemed as if each step was followed by an hour of simmering, so it took many hours to finish. The result was delicious. We made the full recipe (about seven quarts), so we'll be knee-deep in gumbo for a while.
It's always something with Septa. Two of the six cars on this morning's train had no power. That meant there was no heat and no lights. I didn't miss the heat that much, even though it was about 20 degrees outside, because the cars really weren't that cold. I didn't miss the lights either, because, well, it's daytime. In a way, it was a treat because the cars were silent, except for the clickety-clack of the wheel trucks of course. That silence was shattered when someone tried to make an announcement. I heard the first couple of words, but the rest were drowned out by a loud hum that made the message unintelligible.
Friday, March 7, 2003
On Wednesday, Anne and I went to the Philadelphia Flower Show. After being somewhat disappointed by last year's show, we were very pleased with it this year. If you have never gone, I can highly recommend it (especially because I'm not much of a gardener). Just how good is it? Let me say this. I'm used to people comparing Philadelphia unfavorably to New York, and I admit that for most cultural attractions at least, Philadelphia takes a back seat to New York's offerings. The Flower Show is an exception. I've been to New York's flower show, and it's a wan and lifeless thing by comparison. The Flower Show is a big deal here, and consequently, it's packed with people--probably even a few New Yorkers.
Besides the incredible floral and landscaping displays, we enjoyed seeing a number of exhibits devoted to conservation and alternative gardening techniques, such as green roofs, capturing rainwater runoff, and reusing gray water. Besides the displays, there is a bazaar (I've heard it called the Horticourt) with a number of (mostly) horticultural dealers. We didn't buy much, although we both treated ourselves to colorful aprons. We'll be cooking this weekend, I'm sure.
Speaking of food, for dinner we hiked ten blocks east to Philadelphia Fish & Company on Chestnut Street just north of Second. I had read in the Philadelphia Inquirer that the restaurant had added an authentic Maine lobster roll sandwich to their bar menu. I had been waiting months for an opportunity to try it. The restaurant was positively upscale with a very nice atmosphere and good service. Unfortunately, the lobster roll was disappointing. The roll itself was indeed the authentic "top-split" style, and it was grilled in butter to perfection. The lobster itself was somewhat chewy, and I missed the al dente bite of the best quality meat. Perhaps it had been mishandled at some point. The dressing was an herbed mayonnaise with a strong flavor of lemon and an herb I couldn't identify. The problem was it was simply too strong a flavor, not to mention that there was just too much of it. Despite all these criticisms, I enjoyed the sandwich and would probably have another one given the chance. They were so close, too! I was just disappointed that I will have to wait to go to Maine again before I can enjoy the real thing.
Tuesday, March 4, 2003
Sunday night, we went to see Ellis Marsalis and Sons at the Kimmel Center. We sat in our usual cheap seats behind and above the stage. This position worked in our favor for a couple of reasons. We could see the band fairly well because we were only about fifty feet away, and the sound was mostly natural and unamplified. Although every instrument was carefully miked, I much preferred hearing the natural sound to a "mix" coming from the two large stacks of speakers pointing towards the audience. The natural sound wasn't perfect because we were behind the musicians, but it was fine. There are things I don't much like about the Kimmel Center, but the sound is not one of them. It's a great hall.
The band included father Ellis Marsalis on piano and four of his six sons, Branford (saxes), Delfeayo (trombone), Wynton (trumpet), and Jason (drums). Reginald Veal rounded out the rhythm section on bass. They played mostly original compositions in a amazing variety of styles from early twentieth-century "Dixieland" right through to post-modern hard bop. Wynton and Branford are just fantastic, of course, but the big surprises for me were hearing Ellis and Jason. I had no idea Ellis was such an accomplished and modern player. He could really dig in on smokingly-fast tempos or stretch out beautifully and sensitively on ballads. An even bigger surprise came from young Jason, who is only 26 years old. He played masterfully, keeping impeccable time and pumping energy into all the soloists. He was at once supportive, propulsive and inspiring. One of the highlights of the concert was a short drum solo that was beautifully groovy and melodic at the same. I could listen to him all night.
Former governor of Maine, Angus King, has packed his wife and two kids into a huge RV and is taking an extended tour of the perimeter of these United States. Why do I care? It's not because I would want to follow in his footsteps, although such a trip sounds like it would be a lot of fun. I certainly never did anything like it. (I never bummed around Europe for a year after college either.) I mention it because my ears always perk up when Angus King is in the news. For one thing, he was governor of Maine, one of my favorite places in the world. Other than that, he is important (to me) for being a devoted Macintosh user and for conceiving the bold plan of equipping every middle school student in the state with a Mac laptop. Angus is phoning in occasional reports from the road to the NPR show Marketplace, or you can follow the family's progress on their web site. I can just imagine what he must say to people he meets, "Hi, I'm Angus King, and I'm not running for anything." Maybe he's taking the pulse of the country in preparation for a run for the Presidency. Hmm. Vote for Angus King! PowerBooks for everybody!
Friday, February 28, 2003
For connoisseurs of Web Sites That Suck, I put up an amusing error dialog I received while surfing one such site. I hereby submit this as my nomination for Worst Performance by a Supporting Technology (ASP). I think I just hit the Back button to trigger this one. Sheesh.
Thursday, February 27, 2003
Hmm. Seems like my last entry had to do with snow and, by gosh, it's due to snow heavily again tomorrow. There seems to be no end to the white stuff this year.
I'm resurrecting my PAW project from the dead. Last year I ran out of steam at Week 27, only halfway through the year. There's only one picture from this year up so far, but I'm actually ahead of where I was last year. Check out the PAW here. Wine and cheese reception to follow.
Monday, February 17, 2003
The Blizzard of the Century is about over. Of course our "Century" is only two years old, so it wouldn't take that much of a storm to qualify for the title, but nevertheless this storm may qualify as the worst ever in this area. If it doesn't win the title, it will probably drop only to second place (after the Blizzard of 1996).
The snow began around 10:00 AM Sunday morning, which was about six hours earlier than forecast. In an attempt to keep up with the accumulation, we shoveled our walks and driveway twice on Sunday, hoping to make the job more manageable by dividing it up. On Monday morning, however, it looked like we hadn't done very much! We went out in the afternoon to tackle the snow yet again, knowing that the brunt of the storm was behind us. After a while, we managed to free one car, leaving only a small wall of snow between the driveway and the street. We didn't bother to knock through that wall today, because we figured a snow plow would probably block us in again.
After going inside for a rest, we noticed one of the employees of the company across the street, who had been plowing their parking lot while we were shoveling, suddenly driving over to our side of the street and plowing around our second buried car! He not only freed that car but then also widened the path to the other car. We were very grateful for his generosity. Now we don't have any excuses for not getting to work on time (although Anne already knows she has the day off).
I whine a lot about my various problems with OS X, and I realized today (after reading the latest from Daring Fireball) that I'm not alone. I also realized that instead of just whining, I should be reporting my complaints. Apple has a feedback page for OS X, and I have to assume they are sincere about users' comments if they went to the trouble of putting up this page. So I posted some feedback about the current burr under my saddle, to wit:
Title: New folder's name can't be edited immediately in list view

Comments: After creating a new folder in the Finder, the default name "untitled folder" remains highlighted for editing in icon and column view, but not in list view where it blinks and becomes deselected. To edit it, you have to hit Enter to highlight the name. I would appreciate it if the name also remained highlighted in list view. Thanks.
I'm glad I got that off my chest. Now when the next release comes out and they still haven't fixed this, I'll really have something to whine about.
While I'm whining, I wanted to confess my utter inability to script anything with Adobe GoLive 6.0. The application has quite a large dictionary, but I can't get it to do anything. What's worse, I couldn't find any examples or help in the documentation or on Adobe's site.
I was in the darkroom at Abington Art Center yesterday and one of the students explained to me what the heck split filter printing is all about in words I could understand. I sort of had the general idea, but the concept didn't make sense to me. I just assumed that you could control or create any kind of contrast by choosing the right combination of filter and exposure time, but split filter printing allows you to do more than that. In the print I was struggling with, I had the right contrast, but my blacks were a little weak. If I went to the next higher filter to get a richer black, I would probably lose the sparkle in my highlights, so what I did was switch to a 5 filter for only about 15% of my total time. That caused only the darkest shadows in the negative to go quickly to black without darkening the highlights. It was like magic... or Photoshop. :-) Anyway, thanks, Ellen!
Saturday, February 15, 2003
Snow's a comin' (late tomorrow). Ooooh scary. This will probably be the biggest storm of what has been quite a snow-filled winter. The timing is almost perfect, since I have Monday off anyway. I hope to be dug out by Tuesday in time for work.
Friday, February 14, 2003
I installed the latest OS X update, 10.2.4. The only issue I encountered was that my httpd.conf file (the Apache web server configuration file) was backed up as httpd.conf.applesaved and replaced with a new one. I noticed this when I went to work on this site. I entered 127.0.0.1, the local address, but instead of seeing Mere Cat's home page, I got the default Apache home page. It said, "Seeing this instead of the website you expected?" Uh, yup! "Please contact the person responsible for maintaining this server with questions." Hmm. That would be... me.
I had edited the DocumentRoot attribute to point to a different folder than the default one of /Library/WebServer/Documents, but that change was wiped out when the installer replaced httpd.conf. All I had to do was re-enter my custom value for DocumentRoot. By the way, I use Apache to view this site locally off my hard drive instead of just opening the html files directly, because I use a trailing slash scheme for all my directory links. For example, the link to Photography in my navigation is "photo/" (note the trailing slash) instead of "photo/index.html," which is the full path including the actual file name. If I click on a link on a page that was loaded as a file and the link ends with a trailing slash, then a directory listing appears in the web browser instead of the page. If I use Apache, however, then the web server steps in to deliver the default file in that directory, index.html, and I see the page I am expecting to see.
It looks like the changes to httpd.conf include support for a custom module called mod_rendezvous_apple.c. I have no idea what that does, although it probably has something to do with Rendezvous.
Sunday, February 9, 2003
Hmm. I just haven't found enough time recently to write much of anything. Although a number of good things are happening right now, there isn't much worth sharing with the world. Still, there's always something to talk about. Heh.
On Macintouch, Ira Flatow (host of NPR's Talk of the Nation: Science Friday thought that as long as Apple were introducing such software as a web browser (Safari) and a PowerPoint clone (Keynote), they should introduce a word processor, or I should say, reintroduce one that has been languishing for some time: WordPerfect. That started a discussion of all the other worthy candidates for reintroduction, each of which has a devoted claque of partisans who would much rather use their personal favorite from long ago than the latest version of Microsoft Word. In the early Nineties, word processors were my favorite software category (I much preferred reading about writing tools than actually writing) and eventually owned most of the early ones. One that was way ahead of its time was Ashton-Tate's FullWrite Professional. I had forgotten all about FullWrite until this thread appeared on Macintouch. I learned that FullWrite was last owned by Akimbo Systems and, just before Akimbo closed their doors for the last time, they gave away what was then the latest version of FullWrite, 2.0.6 from about 1992 or so. Naturally I had to have this version. (I have original disks from an earlier version; I forget which.) Akimbo vanished about two years ago, and I could find no trace of the free version of FullWrite, even checking Hotline and Gnutella. It's out there somewhere I guess, but who knows where.
My interest in Perl led me to discover a content management system call Bricolage. It seems like ridiculous overkill for what I need, so naturally I've gotta have it. I need more power!
Earlier this week, I went surfing for camera bags and found some cool ones. The story is on the photo equipment page.
Thursday, January 30, 2003
Congratulate me. I'm writing this entry in my brand-new "content management system." Regular reader of these pages will remember that I have been playing with Perl and the Perl module Text::Template in an attempt to eliminate Dreamweaver from my work flow, such as it is. First, I rewrote the most complicated bit--the code that creates the custom navigation menu on each page--and this morning slapped together a template to finish the job. What I have so far does indeed eliminate Dreamweaver, but if I wanted to change the template, it would be tedious. Another disadvantage is that there is now an extra step whenever I edit a page. Before I would just open my local copy of the live page, change it, save it, and upload it. Now I edit the "content" page (which includes embedded HTML) and have to run a Perl script to render it through the template. It's only one extra step, and BBEdit's Unix Scripts menu makes it painless. It's far from an ideal system however, so for now I'm only going to use it on one page as I go about making other behind-the-scenes changes.
We recently received a catalog from Klehm's Song Sparrow Perennial Farm (which I delight in calling Phlegm's for some childish reason). Klehm's has about the best selection of hosta I've ever seen, although I think they are even more famous for their peonies. I just took a look at their web site for the first time and see that they sell 85 kinds of hosta. Wow. Anyway, I've gotta get moving and pick some. I'm hardly the gardener in the family, but I'm trying, and my plan is to turn 30 feet along the back of the house into a hosta-and-fern wonderland. I prepped the bed last summer, and it's been waiting patiently under mountains of mulch for some action. The mercury hit 30 degrees today, so can Spring be far behind?
Tuesday, January 28, 2003
Last night I reached the first milestone in a new initiative to move away from my dependence on Dreamweaver. I recreated the code which builds the navigation menu on the left side of each page in Perl (the code was originally written in AppleScript). This was my first real use of Perl beyond simple "Hello World" kinds of programs. I'm not sure my Perl code is all that idiomatically "Perlish," but the resulting script was significantly shorter than the AppleScript version. My plans now are to write a new site template and related files and using the Perl module Text::Template to actually build the site. I don't have any plans to redesign the appearance of the site ('cause I don't have any design ideas), but I do want to make the site more accessible, per Section 508 and the recommendations of Mark Pilgrim found at Dive Into Accessibility. None of the pages in the site use any of the new code yet, but it won't be long before you will no longer see such Dreamweaver cruft as "#BeginEditable" in the HTML source. Meanwhile there are still a number of challenges to overcome. While it would be easy to replicate Dreamweaver's template capability in Perl, I would be doing just that--replicating--and only that. It seems as if using a database or <shudder> XML are the only alternatives that could deliver more flexibility. No wonder Movable Type (et al) is so popular!
Friday, January 24, 2003
Another night (last night, actually) walking the streets alone in pursuit of my Art. It was even colder tonight than Wednesday night. I took about five pictures in about a ten-minute period, all with people in them. I even focused this time. Cool. Even though I have a backlog of undeveloped film from last year, I'll probably develop this roll first. Can't wait to see just how blurry pictures taken at 1/8 second can look. :-)
Wednesday, January 22, 2003
Tonight I stalked the streets of Philadelphia in 20-degree weather, camera in hand, a frozen block of metal sucking my body heat right through my glove. Well, it wasn't quite that dramatic. I was just walking to the train and took a couple of pix. What was significant is that I had the nerve to carry the camera in public and take pictures--with people in them, even--without getting beaten up or arrested. I know it doesn't sound like much, and soon I'll have the pictures to prove it wasn't! But it was a big step, nonetheless. Do I hear cheering? Yes, I think I do.
This morning I noticed a new ad campaign on the train. Each tag line began with "Without sports..." Huh??? Someone's trying to raise our awareness about sports? In a country crazed with sports? I don't get this at all. But I don't get sports either. Ha. Sports are great; it's just something for Other People.
Tuesday, January 21, 2003
There's so much going on, I haven't had time to update the site. Last Friday, we finally received our new bed from Pottery Barn. The bed had been back-ordered for a long time and then Pottery Barn's delivery "service," Exel, weren't able to deliver the bed when they promised. Anne has a full account of our problems with Pottery Barn and their hapless minions, Exel. The bed arrived safe and sound, and enabled us to move back into the bedroom (we had been sleeping in the dining room while working on the bedroom) and gave us back our dining room as well.
Over the weekend we celebrated with lots of delicious homemade goodies. Anne made lasagne and dinner rolls and also some vichysoisse with leeks from our garden. Yesterday, we combined our two Williams-Sonoma gift certificates that we received as wedding gifts and splurged on a Kitchen-Aid mixer. We had been using an ancient, underpowered hand mixer that smelled like burning insulation every time we used it. I had been coveting this Kitchen-Aid mixer for many years. Every yuppie household has one, of course, but we're anything but yuppies.
As Steve Jobs likes to say near the end of his keynote speeches by way of introducing some cool new toy, "Oh, there's just one more thing." I received my "new" enlarger, an Omega D2XL. I don't really know how old it is, but I would guess it's about 25 years old. It's in fine shape, however. I got it on eBay and after winning the auction was informed of the shipping charges (it weighs almost 100 pounds). I nearly fainted, but when I saw how well they packed it, I was surprised the shipping was so cheap! The enlarger was crated so elaborately and carefully I feel certain it would have survived a nuclear blast. Over the weekend I got started setting up the room that will be my darkroom. I look forward to having a state of the art darkroom--state of the art for 1970.
Tuesday, January 14, 2003
I changed the little tag line at the top of my home page tonight. It used to say, "There are millions of personal home pages on the Internet..." Now it says, "There are millions of personal web sites on the Internet." I think it's more accurate. After almost a year of, uh, typing and stuff, there's more than just a home page. I even have an archive now. Ooooh.
Some fresh whining about Microsoft Outlook can be found right here. As if anybody cares. <sniff> If your Outlook (Macintosh 2001 version) just freezes up solid when opening a message, I may have one solution.
Sunday, January 12, 2003
I got tired of waiting for the Mac OS X December 2002 Developers Tools CD I ordered on December 21, so I just went ahead and downloaded the whole thing. The first thing I wanted to do is get back into AppleScript Studio, which I hadn't looked at in months. I think AS disappointed a lot of people because it promised to be a successor to FaceSpan, providing a way for normal people who know only AppleScript to access all the lickable GUI widgets of Aqua and build real applications without knowing Objective C. Instead, "AppleScript Studio" doesn't even exist, except as a marketing rubric. It simply means that Apple's Cocoa development environment (which, by the way, consists of two separate applications: Project Builder and Interface Builder) now supports AppleScript as a language. Don't get me wrong, it's a big deal, but I think a lot of people whose only programming language is AppleScript were expecting something a little easier to comprehend.
When I first tried AppleScript Studio, I followed the Hello World tutorial pretty easily, but when I tried something I thought should be "simple," I was immediately lost. I finally got back to that simple project and was able to solve the problem, but I was pretty confused along the way. I think it will take some time for me to become familiar with the nuances of Interface Builder.
This weekend, I also entered and compiled a Hello World C program using the gcc compiler, just to make sure it worked. It did. :-)
Friday, January 10, 2003
Fooling around with the Unix side of OS X on the train. Follow the progress here (installing Korn shell and GNU file utilities). Someday this knowledge will come in handy. In reading the GNU documentation, I noticed this recurring disclaimer: This manual is incomplete: No attempt is made to explain basic file concepts in a way suitable for novices. Thus, if you are interested, please get involved in improving this manual. The entire GNU community will benefit. Hey, I'm a novice. Are they talking to me?
Thursday, January 9, 2003
My lobster roll page started getting a lot of hits yesterday. It usually gets a couple a day, which I presume are coming from search engines, but yesterday there were about 25 hits. Not that that's a lot, but it's a big increase. Someone must have posted a link to the page somewhere. I wonder what that's about.
Short Macworld Expo report: The best keynote I've seen in a long time, almost as exciting as the one that introduced the Cube. I've switched to Apple's new web browser, Safari, at least temporarily. (My current browser is Chimera.) It is fast, although I don't think it's significantly faster in routine use than Chimera. Safari doesn't offer tabbed browsing, but since I never used that feature, I don't miss it. As slick as Safari is, it certainly has some bizarre behaviors. It likes to download files instead of displaying them, and when clicking on a link to a local directory, it opens a window on that directory in the Finder instead of displaying the directory's contents in a browser window. Hey, it's still in beta. It's amazing that Apple could produce such a polished, full-featured browser in complete secrecy in such a short time when, for example, Mozilla took 5 years to reach version 1.0--and Mozilla's not perfect by any means.
The new 12-inch Powerbook is very nice, tiny and fast just as my old Duo 230 was back in the last century. Trouble is it's too expensive, $500 more than the iBook I was dreaming about (when I wasn't busy dreaming about cameras). Apple still makes that iBook, but I could never get a G3 iBook now that there's a G4 Powerbook available. Sigh.
Tuesday, January 7, 2003
I think I'm catching on to Septa. The day of the last Macworld Keynote (July 17, 2002), I got to work 40 minutes later than usual and missed the first half hour of the keynote. Well, today is the day of the Macworld San Francisco Keynote, and Septa's done it again. The R5 was 25 minutes late. The difference is that because the Keynote is in San Francisco instead of New York, it's starting three hours later local time. If Septa ever made me three hours late, I'd probably just start driving to work. Hey, wait, they did once. Yo!! Let me off this train!
Monday, January 6, 2003
On the train ride home, I switched my shell in OS X's Terminal application from the default tcsh to the Korn shell (ksh93), which I got using Fink. I used NetInfo to make the change, and it not only worked, but didn't seem to break anything. Hmm.
Well, I did it again--entered another photo in the Streetphoto Salon. That's two Salons in a row. The topic this time is "The Obvious," but that didn't make my choice of picture very obvious to me. One positive thing about this Salon--it's the only photo I've entered that I actually like.
I'm going to bed early tonight. I want to get a good night's sleep so I'll be fresh for tomorrow's MacWorld San Francisco Keynote. Something tells me it'll be a good one. It'd better be or I'll demand my money back.
Sunday, January 5, 2003
I got off the train in town Friday night to run a quick errand. As I always do, I had my camera stashed in my backpack "just in case." The trouble is, I never take the darn thing out and use it. I may be fascinated by street photography, but I'm also terrified by the prospect of actually doing any myself. Of course, I don't know why I'm scared. Nothing's going to happen. In fact, all I need to do is remind myself what happened when I went out one night about a year ago. I used a big tripod, so I was anything but inconspicuous, yet I felt invisible. No one paid any attention to me. Of course, I was taking pictures of buildings, not people, so I wasn't so self-conscious. Anyway, where was I? Oh, right. I had my camera with me and this time (half-heartedly obeying a New Year's resolution), I actually took the camera out. Suddenly, I was surrounded by police! Nah. Just kidding.
It was raining lightly, which was part of my inspiration. I like rainy nights with the fog and wet streets and so many interesting reflections. Trouble was, the wind was blowing very hard. I walked toward City Hall thinking: All I have to do is take one picture to break the jinx and then I can go home. (Cf. photographer John Brownlow's essay on overcoming shyness.) Market Street was closed while crews were setting up grandstands for tomorrow's Mummers parade. I approached the Clothespin. I metered. Hmm. A half second. I'm not afraid to try slow speeds if I'm braced against a wall and there was one right there. I thought the wall would shelter me from the wind, but it only seemed to funnel the wind toward me more intently. So with the wind howling I took one hurriedly-framed tourist snapshot of the Clothespin. That was it. Hey, I didn't want to miss my train. But I took the camera out of my backpack!
I do wonder what I am going to do with my photography this year. I really need to recommit to doing a PAW at least. I'm in a rut.
I added some more items to my new darkroom "shopping list."
Wednesday, January 1, 2003
Happy New Year! We're off to great start this year. Sure, it's raining cats and dogs, but at least the Mummers parade was canceled so we weren't even tempted to waste any time watching it. (OK. It's not that bad.)
Speaking of cats and dogs, it's been an exciting couple of days. First, we thought we lost our cat, Sidney, but fortunately he wasn't really lost. Read on for the full story and happy ending.
On Monday, Anne called to let me know that our cat Sidney had disappeared, or at least he had been outside far longer than he usually is on a cold winter day. When I arrived home, there was still no sign of him, so I repeated Anne's search of the yard with a flashlight, calling his name and loudly shaking a can of cat treats that usually makes him come running, wherever he is. We had no idea what had happened to him, but it was becoming clear he wasn't coming home. I went through my collection of pictures, and we picked one to make a "Lost Cat" poster. Finally we went to bed. I set my alarm every two hours to see if he had shown up at the door, but morning came and there was still no sign of him. We walked up and down the streets of our neighborhood, calling his name and shaking the can. We half-expected (and hoped) that he would pop up at any moment from a neighbor's yard, but there was no sign of him. At least he wasn't hit by a car as far as we could tell. We would have been surprised at that anyway, because he never goes near the road.
After getting some supplies for our poster, we returned home to finish it. We dropped off copies at two neighborhood stores that both get a lot of local customers, and at the two closest pet supply stores. Then we started walking around the neighborhood, stapling posters to telephone poles. We thought of calling the nearest animal shelter as well, but it had closed early for New Year's Eve. We couldn't think of anything else to do, except wait hopefully for the phone to ring, so we decided it would be a good time to get our live Christmas tree, which had been sitting since Christmas in the cool garage, into the ground outside. While we were working on the tree, our next-door neighbor walked by and asked us if we had found our cat yet. (He had been the first person we alerted.) We answered in the negative, and he left, wishing us a Happy New Year, although we felt anything but happy at that point. Less than a minute later, he came back to tell us there was a cat sitting on top of his car! We rushed over to his garage, daring to hope that our cat was finally found. Sure enough, it was our Sidney! Somehow he had gotten locked in our neighbor's garage where he spent the night without food or water and probably in total darkness. What is interesting is that I had walked right past the garage looking for him in our neighbor's yard the night before, but never heard him make a sound.
We carried him back to the house, where he quickly gobbled down his dinner. He was obviously very hungry. Funny thing is that, having eaten, he wanted to go right back outside again. We think Sidney feels cheated that even though he was out of the house for a whole day, he didn't really get to go "outside." Today, we had the joyful task of retracing our steps and removing all the posters. Even though it was raining, we didn't mind the job one bit.
With Sidney safely home and dozing peacefully, we could turn our attention to celebrating the New Year. We didn't prepare much of anything special; we just plugged the TV in and hauled out two old bottles of champagne. After sampling one bottle and then the other, I can definitively state that old champagne is bad champagne. We watched some random TV and enjoyed cheese and crackers with wine as midnight came and went. It may not be glamorous, but it's a wonderful life.
Earlier in the evening I found an enlarger on eBay that I was interested in. I had already lost one auction recently and didn't want to lose another. This enlarger had a Buy It Now price that was reasonable, so rather than risk bidding and losing, I bought it! I'm finally on my way to having my own darkroom (now that the rest of the world is moving to digital!). There's more about the great enlarger hunt and other darkroom adventures on my darkroom page.
This morning we resolved to finally put a collar on Sidney. After what we went through, we wanted to be sure he had some identification if he happened to wander off. In previous attempts, he has put up such an incredible fight that we have given up, but this morning when he jumped on the bed in his usual mellow mood, Anne was able to slip on the collar so swiftly and gently that he didn't even notice.