Alert the Grammar Police
As artless as the directions and legalese on gas pumps usually are, the language is usually grammatically correct. Not so at this truck stop somewhere in Lancaster County where we stopped Friday night: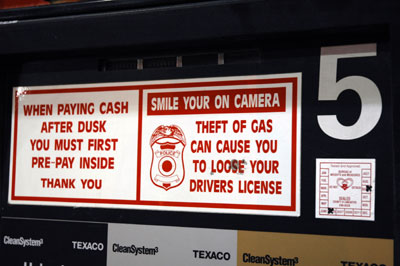 This reminds me of a common sight: signs with gratuitous quotation marks. The change in meaning is usually inadvertently humorous. Example: A roadside sign advertising "Fresh" Vegetables. Enjoy the many examples at the Gallery of "Misused" Quotation Marks. Even funnier (to me) than misheard lyrics.