Mac mini
I got my sweaty mitts on a Mac mini the other night when I helped a friend "install" his and migrate files from a beige G3 running 8.5.1. The mini is indeed molto mini as you can see from the picture. I don't think it could be any smaller and still play CDs and DVDs. Well, it could be thinner, of course. I guess you can never be too thin...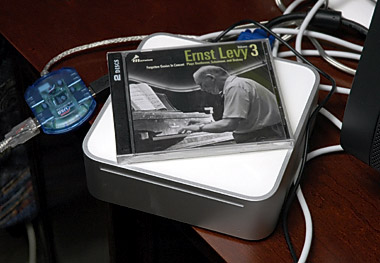 We actually considered getting one ourselves for use as a *backup "server," but declined when we realized the mini only has room for a 2.5-inch laptop drive. The largest drive I've seen is a mere 80 gig, making it inadequate for backups.
I encountered a couple of glitches with the peripherals. The keyboard and mouse were generic cross-platform models from Logitech. The keyboard worked fine except that none of the modifier keys worked. Installing the Logitech software fixed that problem, but then the mouse wouldn't "click" anymore. I've never seen anything like it. Nothing I tried fixed that, so we swapped it with a Kensington mouse on a different Mac. I also was unable to get a USB Zip drive to work with the mini, although I didn't try very hard.
The mini was purchased with a 19-inch Sylvania LCD (1280 x 1024), which for about $350 looked great. I've seen some crappy flat panels in my day, and I was surprised that a display this cheap could look that good.
*Backup footnote. One interesting solution for backups is an external FireWire drive from WiebeTech called the TrayDock™. The TrayDock is a drive enclosure with removable trays that lets you hot-swap SATA or IDE drives. When you fill up a drive, just snap in another one. Thanks to Jim for pointing me to it.
If you're not backing up your precious data (for shame!), perhaps you should watch this video before it's too late. It's really a (seven-minute) infomercial for LiveVault (a backup and disaster-recovery service), but I found it extremely entertaining nevertheless. I had heard that John Cleese has enjoyed a very successful career making industrial films since leaving Monty Python, but this is the first one of that oeuvre I've seen. When you're finished watching the video, explore the rest of the Backup Trauma site; it's very Python-esque.