The Thanksgiving Post
It's not like I need to ride the train in order to write—but it sure seems that way, and because of the Thanksgiving holiday, I haven't been on a train until today. I present, therefore, my belated Thanksgiving post.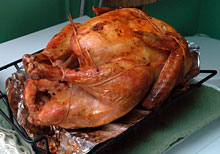 I hope everyone had a wonderful Thanksgiving. We sure did—two in fact. For the traditional meal on Thursday, we hosted dinner for my wife's family, six of us in all. I hadn't roasted a turkey in about 20 years, so I did some research. We decided not to go with the full-on brining that all the cool kids are doing, but instead followed the simpler instructions in a recent issue of Cook's Illustrated. We started by picking up a fresh, free-range turkey from Whole Foods and then rubbing kosher salt under the skin of the bird on Tuesday night. On Thursday, we took the bird out of the refrigerator and laid it breast side down on bags of ice for an hour. The idea is to let the dark meat warm up while keeping the white meat cool, so everything cooks more evenly. Whether it was the fresh turkey, the salt treatment, or the icing, it seemed to work; I've never had better turkey. The sides were stuffing, sweet potatoes, haricot verts in garlic butter sauce, really awesome gravy, and store-bought cranberry sauce. Our guests brought the desserts.
Some of our guests are football fans, so we dragged the TV out of mothballs and plugged it in. Anne's sister gasped when she saw the rabbit ears and without missing a beat Anne explained that we were using the latest in technology: "wireless" TV. We don't need to be tethered to a cable anymore, but can receive programs anywhere in the house. Amazing. After a long day of football, everyone stayed for the night. Anne and I camped out in the chilly attic. It was so cold up there that I had to burn some of my poetry to keep warm (good riddance!). In the morning, we whipped up mass quantities of bacon, sausage and eggs.
To celebrate Thanksgiving with my side of the family, we delivered dinner to my sister-in-law, who is recuperating from knee surgery at the Acute Rahab unit of Jeannes Hospital. The kids were home from college and the six of us sat down to dinner in the waiting room. It was fun playing caterer and trying to duplicate Thanksgiving dinner in the hospital. We didn't bring a tablecloth or candles, but we did bring everything else we could think of—china plates and our best flatware, a coffee maker, and of course turkey with all the trimmings.
All in all, a great Thanksgiving. It's ridiculous how much I have to be thankful for.