Dinner at Mary's Fish Camp
Although I haven't written much about lobster rolls this year, a lot has been happening—and we haven't even been to Maine yet. Most recently, Gothamist linked to my lobster-roll map of New York. Then New York Magazine's Grub Street picked up the story and listed all the places I had overlooked. Since I hadn't updated my map in almost two years, I was grateful for the information (the map has since been updated). The purpose of the map was to help me decide which of the many places I would be nearest to when I occasionally visit New York.
I knew I would need to go to Pearl Oyster Bar and Mary's Fish Camp before all the others, because they have had shell in the game the longest (over ten years for Pearl and eight for Mary's), and both still produce critically-acclaimed lobster rolls. But which one first? Ultimately, I chose Mary's, because I couldn't find any discouraging words about Mary's (giving me confidence that the other three people in our party would be satisfied), and descriptions of the roll led me to suspect that I just might prefer Mary's to Pearl's.
We assumed there would be a wait, so we planned to get there early. We queued up at the end of the line about 20 minutes before opening (there were already about 15 people ahead of us). Around 6:00, the host walked the line and took each party's name and a few minutes later, the first wave was admitted. I think we were the last party to be seated, because we took the last four seats at the counter. If we had missed that first seating, we would have had another hour's wait.
I loved sitting at the counter where I could see the entire kitchen and watch everyone bustling about, especially the two cooks, who worked with dazzling speed. They reminded me why I'll never be a chef—it looks like hard work. Stationed as I was closest to the "entrance" to the kitchen (the break at the end of the counter), I also overheard some interesting conversations (there is really no place for the staff to have a private conversation). At one point there was a conference between two of the servers about the status of a table. One asked the other, "Did you bread them?" Naturally I had visions of a giant tank of egg mixture next to a mountain of crumbs. The other thing I picked up was a vibe of positive energy from the staff—they really seem to like working there.
I ordered the lobster roll and a Brooklyn Lager (other draft-beer choices were Guinness Stout and Anchor Steam), toyed with the packet of Westminster oyster crackers and nibbled on Anne's salad. The roll arrived festooned with a giant rooster tail of lettuce:
I was relieved to find that the lettuce was merely garnish; there was no lettuce in the roll itself. Once I set the lettuce aside, I was dismayed by the enormous amount of mayo. That didn't turn out to be as much of a problem as I anticipated, however.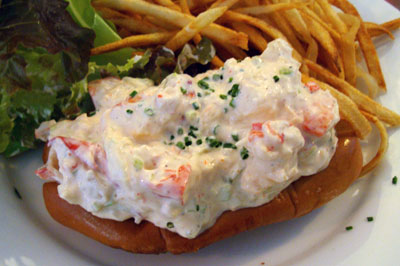 As you can see, the roll was overstuffed, so I chose to work at it with a fork (I would have preferred less lobster, but this quantity seems typical of sandwiches served as entrées, especially an entrée that I believe is the most expensive dish on the menu). After a couple of bites, I realized that the copious quantity of mayonnaise wasn't the end of the world.
Normally, I like lobster that has been barely kissed with mayo (a tablespoon per roll is about right), so you would think I would hate this roll. But I didn't, because for one thing, you could still actually taste the lobster, unusual in rolls with this much dressing. And the mayo itself was slightly warmed and quite luscious. Still, I would have preferred far less mayo, especially since the lobster itself was so good. But if you like mayo, this is the roll for you! One thing that was perfect was the bun itself, crisply grilled and buttered sufficiently so you could really taste the butter with each bite.
I mentioned earlier that Mary's only seats about 35 people, yet even with the legions of hungry New Yorkers outside with their noses pressed against the glass, there was never any pressure on us to leave. We didn't dawdle, however, and even with dessert we were finished in an hour. It will be interesting to try some of the other lobster rolls in New York, but they could hardly be much better than Mary's. ($33.00 with fries in August, 2008. | map and directions)