Pat's Lunch in Stone Harbor
On a visit to Stone Harbor earlier this year in March, my brother-in-law's eagle eye spotted a sign advertising "Fresh Lobster on a Roll." A lobster roll in Stone Harbor??? We swerved into the parking lot of Pat's Lunch at around 5:00 PM. The restaurant was empty at the time, and the ebullient owner, Pat Tirotta, had a captive audience, so he began by fanning out press clippings about himself and his restaurant on the counter. It's no wonder that the New York Times wrote a story about him back in 2001. Originally from South Philly, he has had this place since 1966 and is now 88 years old, obviously still going strong. Pat made us taste all his homemade soups, which we ordered. I sampled the lobster roll, of course, and regretted not bringing a camera.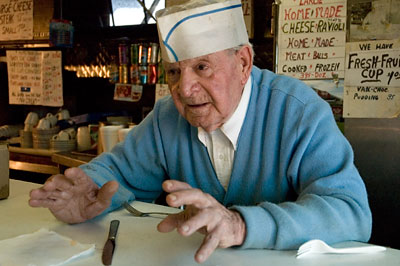 I finally got back to Pat's last Saturday (a dreary, rainy day) with a camera to get some pictures. The lobster roll is pretty good, but it was quite salty and Pat doesn't grill the hot dog bun. Still, the fact that he even serves a lobster roll endeared him to me. Pat's roll might not be worth a pilgrimage, but all of Pat's soups certainly are, especially the she-crab. I bought a quart of it to go. The stories are pretty tasty, too.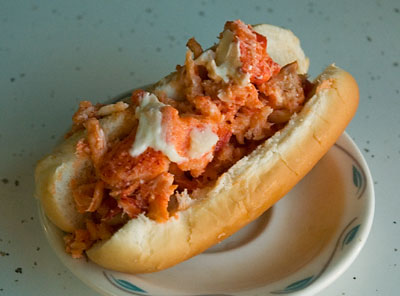 I assumed Pat's served the only lobster roll for miles around until I learned the next day that there's another lobster roll in Stone Harbor at a new place called Quahog's Seafood Shack. I'm sure I'll be trying it sometime this summer. With two places, it looks like Stone Harbor is the lobster-roll capital of New Jersey.