Sour Grapes, er, I Mean Cherries
Have I ever mentioned how much I love cherry pie? It is my favorite pie and one of my favorite desserts ever. Yet I have never made a cherry pie from scratch. (Parenthetical digression: We don't eat a lot of pie, but when we do, it's usually made from scratch. I specialize in crust. I like to call myself the CrustMaster 2000™ mostly because I have been using a food processor recently instead of a pastry blender to cut in the shortening.)
I have never seen fresh sour cherries for sale at the market, so imagine my excitement when we found sour cherries for sale last week at the fabulous Brown's Orchard & Farm Market in Loganville, PA. We bought all they had and packed the station wagon with cherries (OK, not quite).
Coincidentally, Anne noticed an Oxo cherry pitter featured in the September issue of Fine Cooking (page 22). Never having had any cherries in need of pitting, we were shy one cherry pitter, so naturally she ordered one. You can't miss the thing; it's right on the home page.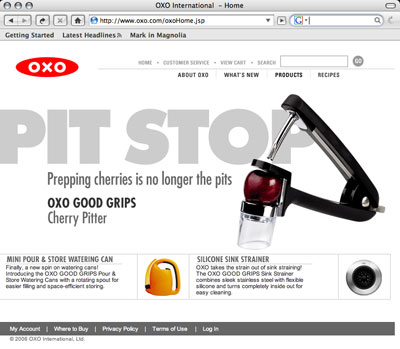 When the cherry pitter didn't arrive with our order, we were stunned to learn that our order was cancelled! Reason: "Product not available." Not even back-ordered as if it were out of stock, just cancelled.
Products are discontinued for all sorts of reasons, but they were featuring the cherry pitter so prominently, we just had to go back to oxo.com and check. Sure enough, it's still the featured product on the home page. In fact, you can still add one to your shopping cart! Criminy. Don't they have computers or something to keep track of this stuff?
So now what are we supposed to do. Pit our cherries by hand?