iPhone 3G
If I had known it would take over three hours to get an iPhone 3G, I never would have done it, but when we arrived at the Apple Store yesterday after work, the line just didn't seem that crazy long. But we did it, and it was even kind of "fun." It's the first time I've ever been caught up in first-day frenzy.
Why did I get one? Funny you should ask. For one thing, my first cell phone was with AT&T, and the service was just so unusably bad, that I canceled after two weeks and went with Verizon. I have been very pleased with the Verizon network, which worked even in isolated locations where other providers failed (sometimes even switching to analog), but I was never thrilled with any of my (admittedly low-end) Verizon phones, because Verizon installs their own clumsy, proprietary software. Since I don't use the phone that much anyway, the lame software wasn't much of a hardship. Last month I finally found myself in a location where Verizon had no service of any kind and AT&T phones did (Point Reyes Station), so I had to admit that AT&T has come a long way since I was a customer.
Anne wanted an iPhone for a lot of good reasons besides it just being cool, and I convinced her to wait for the 3G. Since we would be busting up our family plan with Verizon, it was going to cost me more to stay with Verizon, so I made the switch, too. At least that's how I am rationalizing it, since it is undeniably costing more for us to make the switch. I've never used any kind of smart phone before, and I have to admit having this much functionality in the palm of my hand is cool. Surprisingly, the iPhone's voice quality is superior to my current Verizon phone (Motorola V325). It just sounds more like a "wired" phone. Whether that's due to the phone's hardware or the stability of the AT&T signal, it's a welcome improvement. Plus I basically got an iPod for "free" (I never had one).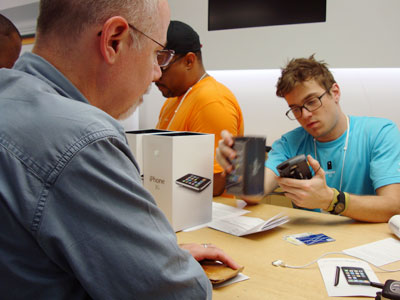 There was still a huge line when we left at around 9:30. The store was supposed to close at 11:00, so it seemed unlikely that everyone in line would get in. I hope no one was disappointed. We took our phones and our appetites to Teresa's Next Door for a celebratory dinner. I had awesome grilled halibut and a Houblon Chouffe Dobbelen IPA Tripel. Now that was something to celebrate.