Two Retrospectives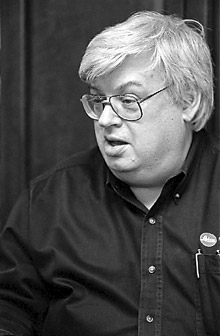 This week brought news of two retrospectives by photographic artists who died way before their time.
Around Philadelphia at least, Sal DiMarco needs no introduction; he was a renowned photojournalist. I was fortunate to meet Sal a few times at gatherings because of our shared interest in Leica cameras. He was an engaging story-teller, and he had so many stories to tell! It was a shock to all when he died suddenly in 2004.
His negatives have been presented to Temple University, and I learned over the weekend of an online exhibition of his work there.
Like Sal, photographer Steve LeHuray also died suddenly (in 2003). I never had the pleasure of meeting Steve, although I wish I had, as he was also devoted to Leicas. Steve posted fine work on his web site every week like clockwork, then bam, he was gone. After his passing, his site Streetphoto.net remained online for a while, but at some point went dark. Thanks to the intercession of Alan Hayes, the site came back online last week providing us with a "retrospective" edited by the artist himself.