Raw Power
After having a Nikon D70 for two years, I've finally taken a few tentative steps toward using the so-called Raw format. I've been reading a book by Rob Sheppard.
I took my first Raw picture of some clouds the other day. At the time I was thinking that this was a challenging subject in terms of dynamic range that might benefit from being shot in Raw.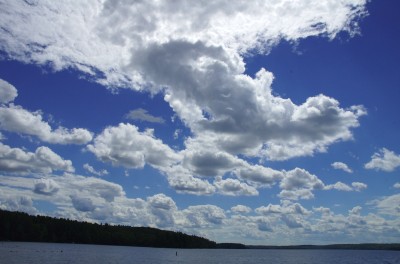 I could stare at clouds for hours (see "Deep Thoughts 2"), especially backlit clouds, but I have never been able to capture the luminous effect. This pic begins to do it. Although I was very careful with the exposure, I otherwise didn't edit this picture. I'm not sure how this shot looks on your monitor, but the clouds just seem to pop more than in any other shot I've taken. I don't know whether this is because it was shot in Raw or not, though. Anyway, baby steps.